Russian Gaming Week Recap: What Have Organizers Prepared This Year?
Russian Gaming Week starts in Moscow in a week. It is the largest event in Russia dedicated to the gambling industry. A Two-day program includes several specialized sections, exhibition, open lectures, workshops and discussions.
RGW is the annual meeting of the industry representatives, which will be held for the 11th time. This year, the event is scheduled for June 7-8. The platform is traditional: Sokolniki Exhibition Center, Pavilion No.2.
According to the organizer, Smile-Expo company, the event's motto is "reload". The development of crypto technologies, AR/VR industries, as well as legislative changes make people take a fresh look at the industry.
In addition to traditional topics related to land-based and online segments, the event will cover the issues of bitcoin payments, artificial intelligence in gambling, chatbots application, development of VR/AR and eSports, as well as new marketing tools.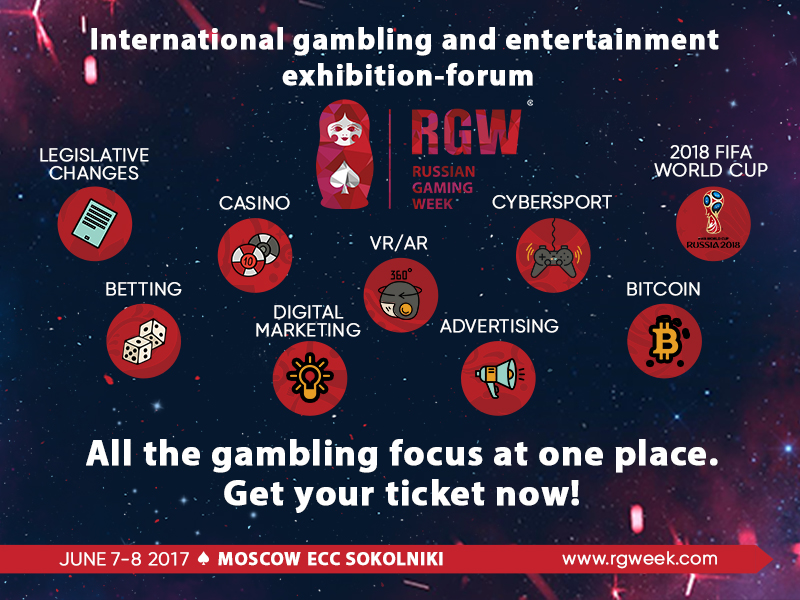 Owners and bookmakers together with lawyers will discuss consequences of the law on sports deductions, new advertising possibilities on the gambling market and preparation for the FIFA World Cup 2018. The audience will listen to the reports of the industry lawyer Maria Lepschikova, president at Bingo Boom, Konstantin Makarov, as well as experts in sales, advertising and business development.
Taking into account the rapid growth of Bitcoin price, as well as increase of the popularity of digital currencies, the participants will discuss bitcoin payments and blockchain services in gambling. Why digital tokens are beneficial, how transactions go, what is debit BTC cards and what tasks may be solved with the help of blockchain – these and other questions will be answered by the invited crypto experts.
Open lectures and discussions will cover the topics related to analytics and application of payment systems, as well as attraction of new players.
Together with the conference, there will be an exhibition of the gambling industry developments. At the Developer zone, developers will present their latest achievements in the field of gambling software and online casino.
Each participant of Russian Gaming Week will get a prize from the sponsor – 7 777 rubles for playing in one of the largest gambling clubs of Moscow.
More details, registration and photo reports of the previous events are available on the website of Russian Gaming Week.