Betting Block At Russian Gaming Week: What Will Participants Discuss?
In a week, on June 7-8, Moscow will host the main bookmaking event of the year – 11th exhibition and conference Russian Gaming Week. A separate block of reports will be dedicated to bookmaking with the respect to the new legislation and preparation to the football World Cup 2018.
Among the speakers are lawyers, betting shop managers and advertising specialists.
What should bookmakers learn before the World Cup 2018? How to improve the effectiveness of the bookmaker's office with the help of reasonable planning and motivation? These issues will be covered by the business coach for the betting shops representatives and the head of the training center UB | CONSULTING Elena Rasskazova.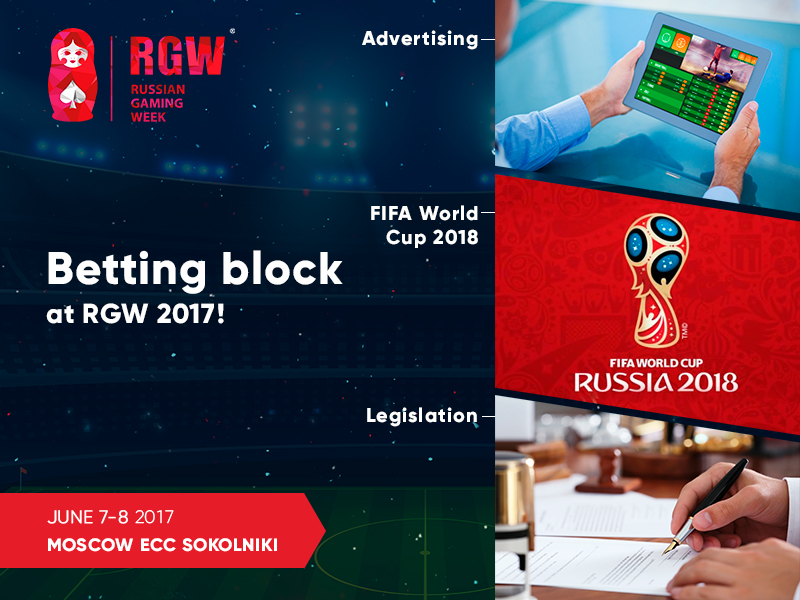 Similar topic, the development of successful business, will be discussed in the report of Sergei Efimenko, Operations Director at BetConstruct. He will consider bookmaking as a sector for investment and share his practical knowledge with the beginning business people.
Benji Cherniak, a successful entrepreneur and the current head of Don Best Sports will provide useful information as well. He will present a case on creating a highly profitable and fully legal product and tell about the prospects of certain sports in Russia.
This time, a constant participant of the industry conferences, the head of Bingo-Boom Konstantin Makarov has prepared a report on the interaction between betting and e-sports. Among other things, he will reveal the reasons for interest in e-sports and it popularity growth.
The topic of effective advertising campaign will be covered by Julia Nemtseva, the Managing Partner at AdConsul and a member of the Expert Council of the Federal Anti-Monopoly Authority on advertising legislation. The expert will make a review of betting amendments and prospects related to them.
Unconventional advertising campaigns for betting clients, contrastive analysis of digital tools, common mistakes that occur when working with internet platforms will be presented by Ilya Kotlikov, the head of betting department at Sports.ru and Tribuna Digital.
The topic of advertising, but in a narrower segment, will be covered in the report of Leonid Paramonov, a representative of a satellite TV operator NTV-Plus. He will talk about the prospects of bookmakers as for the TV advertising.
Bookmakers' operation through the Center of tracking the interactive bet transactions will be discussed in the online presentation of Vyacheslav Fedorov, the Director of Development at BookingTennis. Among other issues, the audience will learn which payment systems are better for providing data to the tax service.
The event won't go without a constant speaker, the industry-specific lawyer Mariya Lepshikova. This year, she will talk about a conflict of interests after the adoption of a new law on betting. Mariya will tell why not all market players are ready to pay deductions for sports, which advertising options are allowed to bookmakers and who will profit from them.
Learn more details and register at the Russian Gaming Week website.