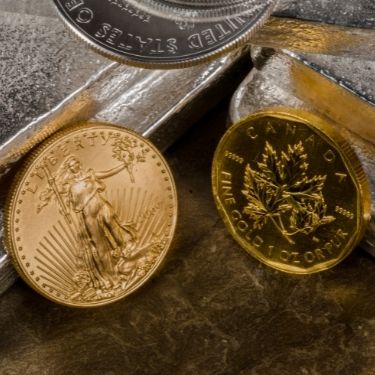 Here on the American side of the 49th parallel, Canadian currency is somewhat of an enigma. We refer to the Canadian dollar as "the loonie" for the one-dollar coin's depiction of waterfowl, but "loonie" is hardly a term of endearment. Their colorful and bilingual banknotes draw sharp contrast to the austere greenbacks stateside, resembling Monopoly money more than our own.
One aspect of Canadian funds is no joke. The Royal Canadian Mint produces the Maple Leaf gold coin, a one-ounce coin of gold bullion with a face value of $50 CAD but a market value of much more. It is 24 carats and 99.99-percent fine—the purest gold coin in the world. Coin collectors and serious investors alike are after these precious coins. What can you do with Maple Leaf gold coins to grow your wealth? The answer: just about anything.
Keep It Under Lock and Key
Most people who invest in gold send it straight to a safe-deposit box at their bank. While many people who "invest in gold" do so through buying gold futures or exchange-traded funds, some investors prefer the certainty of investing in physical gold. Thanks to its super-high fineness, Maple Leaf coins are the most reliable gold investment on the market. Once you make the purchase, however, physical gold belongs in a bank or a brokerage firm—not on display in your office.
Long-Term Investment
It's not 1849—there's no get-rich-quick scheme to this gold. Investing in precious metals is about saving for the long run. With their unmatched purity, Maple Leaf coins are best equipped to run that race for you from the comfort of a precious metals self-directed IRA. Even as an American investor, you can diversify your IRA with Canadian funds, and the Maple Leaf coin is the best way to do it. As much as you may want to admire the beauty of these coins, you're best off putting the money to work in a retirement account alongside other unorthodox but lucrative investments.
Give the Gift of Gold
Say that you already have all the wealth you need. One thing you can do with Maple Leaf gold coins is give them as gifts to children or grandchildren so that they can enjoy the gains that come with this gold. In addition to the standard one-ounce coin, the Royal Canadian Mint issues Maple Leaf coins in smaller denominations as well, making them perfect for gift-giving that will pay off years down the road.