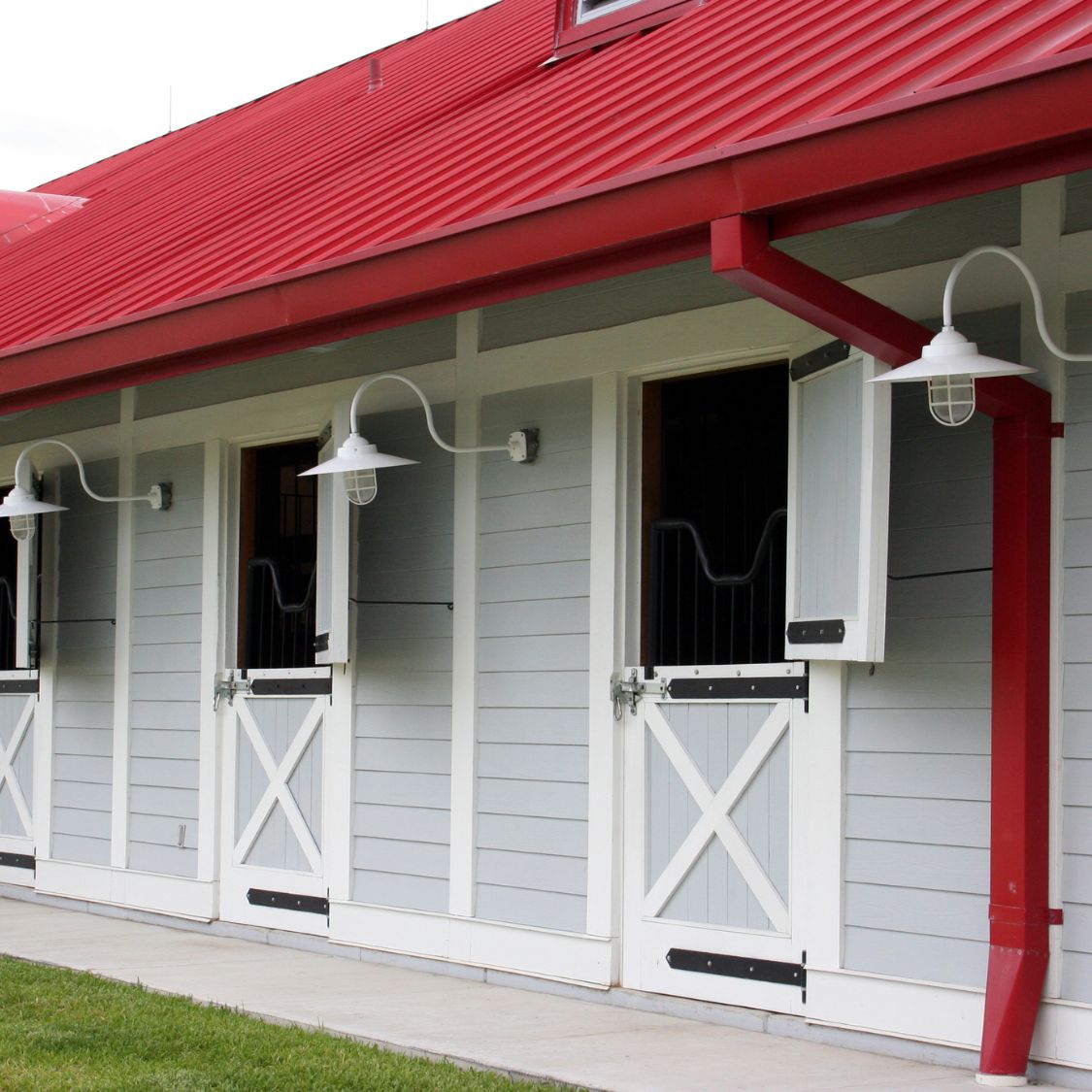 Are you looking to invest more in your horse barn? Below, we've got some ideas for horse barn upgrades that will improve the structure and benefit you and your horse!
Barn Lighting
Visibility is necessary for you and your horse when in the barn for both convenience and safety. All horse owners know horses can be notoriously skittish, especially at night when their visibility is compromised. Adding some barn lighting can help them feel safer and more secure in the barn.
Too often, lighting is overlooked in a horse barn as the lights are rarely used or extremely old, and no one's gotten around to replacing them. But it's vital for you and your horse to properly see the surroundings adequately, even in a small barn. So adding some lamps to the aisles inside and out makes those late nights and early mornings safer and easier.
Plastic Fencing
There are also upgrades outside the horse barn that benefit you and your horse, like plastic fencing. Most horse owners choose a simple wooden structure for the surrounding barn fence, and if that includes you, consider upgrading it to a plastic fence.
Plastic fencing can improve a horse's quality of life and your barn as it's more durable than wood and easier to maintain. A plastic fence is sturdier than a typical wood one. It's also easier to clean since it's water-repellent, which means cleaner surroundings for the horse and less chance of injury due to a broken fence or splinter.
New Stalls & Gates
The stalls and gates are perhaps the most important parts of the horse barn. A horse will spend a lot of time in their stall, so the quality of the stall and gate is critical to your and your horse's safety.
Expanding the stalls by a few feet can also benefit your horse since horses are more comfortable with room to circle and stretch their legs. And if the doors of your stable look rickety and run down, adding some new gates with better grillwork will enhance your horse barn's security, safety, and style.
Rubber Paver Aisles
The interior barn aisle is crucial as it's where you and your horse will spend a lot of time walking in and out of the barn. If you've still got a basic concrete or packed-dirt floor, consider upgrading with a layer of interlocking rubber pavers.
Interesting Fact: Rubber pavers are manufactured out of recycled rubber to help reduce waste and are exceptionally environmentally friendly.
Rubber pavers come in various thickness sizes, depending on whether the underlying floor is concrete or packed dirt, and are a worthwhile investment in your barn. You and your horse will find walking on the rubber pavers more comfortable. They also offer a nonslip surface for those muddy and rainy days, so they're safer for you and your horse.