Aloha! Sunday, June 11th, is a very special day for all Hawaiians and Hawaiians at heart. It's King Kamehameha Day!
Do you know who King Kamehameha was and why he is so important to Hawaii? If not, don't worry, I'm here to tell you all about him and how we celebrate his legacy.
King Kamehameha, also known as Kamehameha the Great, was the first ruler of the Kingdom of Hawaii. He was born in the 18th century and he unified all the Hawaiian islands under his rule through a series of wars and alliances. He also established a legal system, a trade network, and a peaceful relationship with foreign powers. He is widely regarded as one of the greatest leaders in Hawaiian history and a symbol of Hawaiian culture and identity.
King Kamehameha Day is a state holiday in Hawaii that honors his memory and achievements. It is celebrated every year on June 11th, which is believed to be his birthday. On this day, people gather to watch parades, attend ceremonies, enjoy music and dance performances, and pay tribute to King Kamehameha's statues with floral offerings. It is a day of pride, joy, and gratitude for all Hawaiians and those who love Hawaii.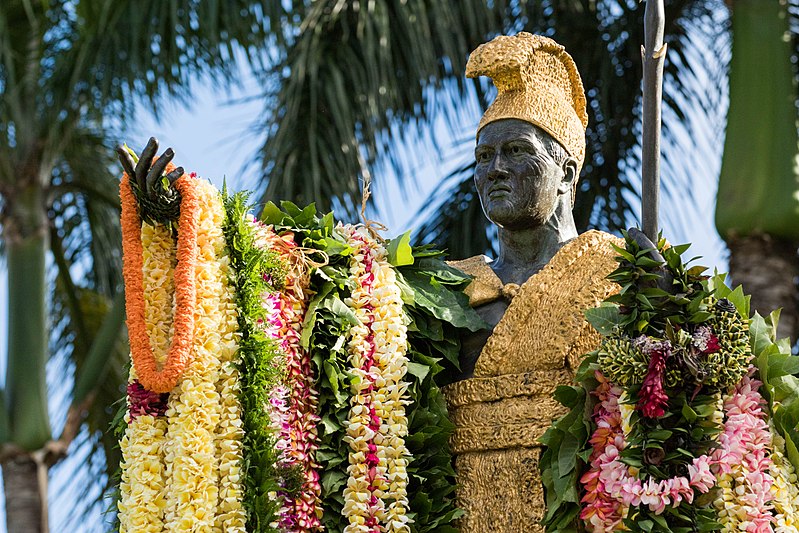 Photo Credit: Anthony Quintano from Honolulu, HI, United States, CC BY 2.0, via Wikimedia Commons
If you want to join the festivities, here are some ways you can celebrate King Kamehameha Day:
- Watch the King Kamehameha Celebration Floral Parade online or in person. This parade features colorful floats, marching bands, hula dancers, and pa'u riders (women on horseback wearing traditional skirts). The parade starts in downtown Honolulu and ends at Queen Kapiolani Park.
- Visit one of the King Kamehameha statues on Oahu, Maui, Hawaii Island, or Washington D.C. and admire the beautiful lei (flower garlands) that adorn them. You can also learn more about King Kamehameha's life and legacy from the plaques and signs nearby.
- Listen to some Hawaiian music and learn some hula moves. Hawaiian music is rich and diverse, blending traditional chants, melodies, and instruments with influences from other cultures. Hula is a graceful and expressive dance that tells stories through gestures and movements. You can find many online tutorials and videos to help you enjoy these art forms.
- Try some Hawaiian food and drinks. Hawaii has a unique cuisine that reflects it's multicultural heritage and tropical environment. Some of the dishes you can try are poi (mashed taro), laulau (pork wrapped in taro leaves), kalua pig (smoked pork), poke (raw fish salad), lomi lomi salmon (salmon with tomatoes and onions), haupia (coconut pudding), and shave ice (flavored shaved ice). You can also sip some Kona coffee, guava juice, or mai tai (rum cocktail).
- Learn some Hawaiian words and phrases. Hawaiian is the official language of Hawaii along with English. It has a simple alphabet of 12 letters: five vowels (a, e, i, o, u) and seven consonants (h, k, l, m, n, p, w). Some of the words and phrases you can learn are aloha (hello/goodbye/love), mahalo (thank you), ohana (family), kuleana (responsibility), malama (care), pono (righteousness), and ho'okipa (hospitality).
I hope you learned something new about King Kamehameha Day and how to celebrate it. I also hope you have a wonderful day filled with aloha spirit. Mahalo for reading this blog post!