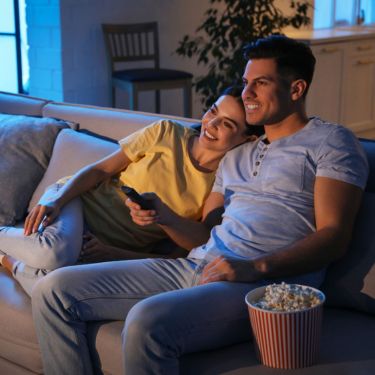 A movie date at your home should feel like a comfortable experience, and you'll need to take steps to ensure everything goes off without a hitch. The evening may feel nerve wracking, but there are ways to ensure it goes perfectly for you and your date. Use these tips to set up a perfect movie date at home and enjoy the show with good company.
Focus on Cleanliness and Comfort
Making your home and yourself look presentable is a top priority. Make sure that everything is neat and there aren't any disorganized stacks of mail or dirty dishes in the sink. Vacuum, mop, and sweep the floors, even if you don't plan to sit on them during the movie.
Set up a comfortable area for you and your date to relax. Make sure there are many ways to rest, using pillows and blankets for maximum comfort.
A cute idea to set the mood is to form a small tent made of a top sheet for a bed. Fill the space with pillows and blankets and have the opening facing the screen of whatever media device you choose. You and your date will feel comfortable in the space and around each other.
Offer Unique Flavors of Popcorn
Typical movie snacks, such as candy, popcorn, and soda, are essential for the full movie experience. But for a better date night, offer uniquely flavored popcorn. There are dozens of different types in stores and recipes you could make.
These flavors will add a special feature to the evening and improve the date's feeling. Good food leads to a more enjoyable time, and with popcorn flavors like cookies and cream or strawberry champagne, you're sure to create the perfect movie date at home.
Use the Best Equipment for the Movie
The sights and sounds of the movie will make your date more enjoyable. And with the right equipment, you're sure to impress. If you want the best visuals, you should know that there are many ways to improve the image quality of your TV, such as balancing the blue light filter or adjusting the motion smoothening. Make a test run of a movie to ensure it looks great before the date.
Attach speakers or a soundbar to the TV for improved sound quality and an immersive theater experience. A projector is also a reliable option if you want to improve the wow factor for your date. Connect your laptop and a few speakers to get a similar effect and have a quality cinema-filled night.
Date nights at home take consideration to ensure your date feels great. Use these tips for a memorable night with your special guest.