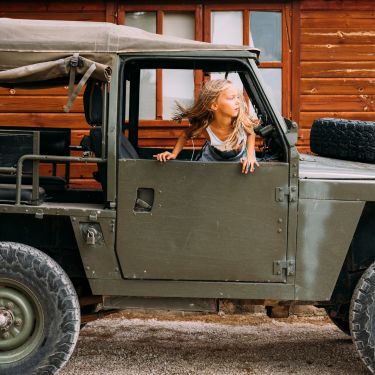 When it comes to off-roading powerhouses, two names often rise to the top: the Jeep Wrangler and the Land Rover Defender. Both vehicles are renowned for their robust capabilities and rugged appeal, but they cater to different types of adventurers. Read on to learn which is best for you and your needs, the Jeep Wrangler or Land Rover Defender.
The Jeep Wrangler
The Jeep Wrangler is a beacon of affordability and off-road prowess in the world of SUVs. With prices ranging from $31,195 to $82,495, this vehicle offers a variety of options for different budgets without compromising on off-road capabilities. The versatility of the Wrangler is further highlighted by its diverse engine options—a 285hp 3.6L V6, a 270hp 2.0L turbocharged I4, a 375hp Hybrid plug-in, and an exclusive 6.4L Hemi V8 for the Rubicon model. Each engine is designed to deliver power and performance that will satisfy any off-roading enthusiast.
Fuel efficiency is another strong suit of the Jeep Wrangler. With a combined 20mpg, it's an economically sensible choice for those who love to venture off the beaten path. When it comes to towing, the Wrangler holds its own, capable of pulling between 2,000 and 3,500 pounds. This makes it perfect for weekend camping trips or hauling equipment for outdoor adventures. Above all, the Jeep Wrangler is celebrated for its improvements as an off-roader and the fun driving experience it offers.
The Land Rover Defender
Doubling down as a luxury SUV and a rugged off-roader, the Land Rover Defender is a vehicle that commands respect. With a price range of $53,500 to $115,000, it caters to those who aren't afraid to invest in superior comfort, functionality, and off-road capability. This vehicle's engine lineup includes a 2.0L I4, a 3.0L V6, and a 5.0L V8, each offering robust performance to power through any terrain.
The Defender falls behind the Wrangler in terms of fuel efficiency, delivering a combined 16mpg. But it truly outshines the Wrangler in towing capacity. Able to tow between 7,716 and 8,201 pounds, the Defender is more than capable of hauling heavy loads for family vacations or adventurous expeditions. However, the Defender isn't just about power and performance. It's also designed with family in mind, offering spacious interiors, advanced safety features, and a host of luxury amenities that make every ride comfortable and enjoyable.
Which Is Right for You?
Deciding between the Jeep Wrangler and the Land Rover Defender ultimately comes down to your personal needs, preferences, and budget. If you're a budget-conscious off-roading enthusiast who values affordability without compromising on performance, the Jeep Wrangler is an ideal option. On the other hand, if luxury, family-friendly features, and comfort are high on your priority list, then the Land Rover Defender is an investment worth considering. Although, while the Defender is objectively higher performing than the Wrangler, not many vehicles offer an affordable open-air driving experience like the Wrangler!
Determining whether the Jeep Wrangler or Land Rover Defender is best for your needs ensures you purchase a quality vehicle that will remain suitable for many years of off-roading and regular driving activities. Regardless of the choice you make, both vehicles promise an exhilarating and satisfying off-road experience.