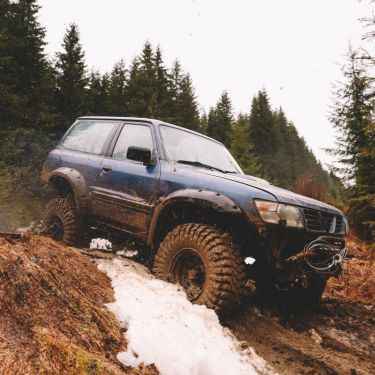 Nothing is quite as thrilling as taking on the rugged terrain and tackling any and all off-road adventures that await you. However, before you rush out there, it's a good idea to make sure you know what you're doing, even if this isn't your first time.
There's always room to learn and grow when it comes to off-roading. If you're ready to become an expert 4x4 driver, this guide is here to tell you everything you need to know. In it, we'll explore some key information and tips that'll help you master the art of 4x4 driving. So buckle up, and let's get started!
Understand Your Vehicle's Capabilities
First things first—you need to know and understand your vehicle's capabilities. Study your owner's manual and get to know your 4x4's features and functions. Familiarize yourself with the different drive modes, transmission settings, and off-road equipment, such as locking differentials and traction controls. The better you know your vehicle, the more confidently you can navigate it.
Build a Solid Foundation of Driving Techniques
To truly become an expert 4x4 driver, you'll need to know the fundamentals of driving off-road. Here are some basic techniques you should understand and master before moving on to the more complicated tech.
Maintain a steady speed and avoid sudden acceleration or deceleration.
Use the "low-and-slow" approach, especially for rocky or steep terrain.
Take advantage of engine braking on descents.
Once you've put these techniques into practice consistently, you'll have a solid foundation in off-road driving that you can build upon to become a better driver.
Familiarize Yourself With Different Types of Terrain
A keen sense of observation is crucial for any 4x4 driver. Learn to read the terrain and anticipate potential obstacles or hazards. Look for stable paths and analyze the landscape for the most efficient and safest route. Remember—a seemingly easy route can be deceiving, so always exercise caution and trust your instincts. Be sure to look online and ask other off-roaders for advice if there's any terrain you regularly struggle with.
Recognize the Importance of Maintenance
One of the fundamental aspects of being an expert 4x4 driver is ensuring your vehicle is always in optimal condition. Regular maintenance checks are essential for a safe and enjoyable off-road experience. Here are a few key areas to focus on:
Inspect your tires for wear and proper inflation.
Keep your engine and transmission fluids topped up.
Examine your suspension and steering components for signs of wear or damage.
Keep your battery terminals clean and connections tight.
As long as you stay on top of your maintenance schedule, you'll encounter fewer issues on your off-road adventures. In the rare occurrence you notice something is wrong, take your vehicle to the shop immediately. It might feel tempting to try to fix something on your own, but there are many reasons why you should let a pro handle your 4x4 repairs.
Learn From the Pros
Finally, the best way to become a pro is to learn from one. Consider attending off-road driving courses or joining a local 4x4 club. These can provide you with invaluable knowledge, experience, and the opportunity to connect with like-minded enthusiasts. As you learn from the pros and practice your skills, you'll quickly grow into an expert 4x4 driver!