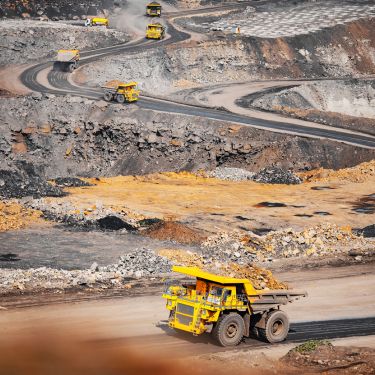 Mining is an important industry that has been around for centuries. It has played a critical role in the creation of modern civilization and the development of the global economy. However, it cannot be denied that mining operations leave a significant environmental footprint.
The good news is that there are ways to make mining operations more sustainable. Let's review some effective strategies that mining managers can employ to reduce the environmental impact of their mining operations.
Focus on Energy Efficiency
One of the biggest contributors to the environmental impact of mining operations is the excessive use of energy. Mining operations require significant amounts of electricity and fuel to power their equipment and facilities, which can result in greenhouse gas emissions and other negative environmental impacts. By reducing energy use, mining operations can reduce their impact while also saving money.
Some strategies for reducing energy use include optimizing the design of mining equipment, using energy-efficient lighting and HVAC systems, and implementing renewable energy sources such as solar or wind power. Temporary fabric buildings are also useful for mining operations, as they can protect mining equipment and act as break rooms or storage rooms, all while remaining portable and reusable.
Environmentally Friendly Technologies
New technologies, such as the Internet of Things (IoT), automation, and AI, are transforming mining operations by reducing energy consumption and ensuring safety. Above all, these technologies help in minimizing carbon emissions by making mining processes more efficient. It starts with optimizing the process, from mine mapping, ore drills to haulage systems. In this way, mining companies can achieve sustainable solutions while also benefiting from improvements such as cost savings and reducing overheads.
Improve Water Management
Water management is another key area of focus when making mining operations more sustainable. Mining operations require large amounts of water for processes such as ore processing and dust suppression.
Unfortunately, this can lead to issues such as water pollution and depletion, which can have negative impacts on local ecosystems and communities. To improve water management, mining operations can implement strategies such as recycling water, reducing water usage through more efficient processes, and using alternative water sources such as wastewater or brackish water.
Encouraging Sustainable Mining With Social Responsibility
Sustainability is an essential factor in mining operations, but social responsibility is also necessary. Encouraging sustainable mining operations with social responsibility entails assessing the mining's full impact on local communities, the environment, and stakeholders like employees. It requires mining operators to be proactive in community development, safety, and fair labor practices. To foster sustainable mining with social responsibility, mines can establish closer relationships with local communities and involve them in mining project decision-making processes.
Making mining operations more sustainable is critical for the long-term success of the industry. By embracing these strategies, it will be possible to mine minerals and metals in a way that is environmentally friendly, socially responsible, and economically viable.