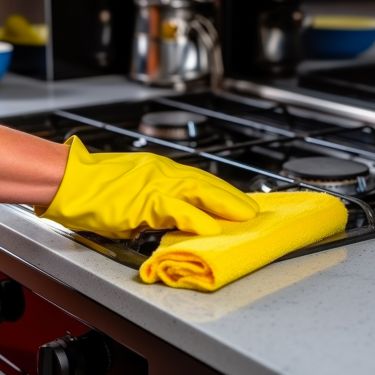 Life can get hectic, and cleaning and maintaining your gas cooktop might not be at the top of your priority list. However, giving that essential kitchen appliance the attention it needs is crucial for numerous reasons. Here's insight into the importance of regular gas cooktop cleaning and maintenance and how it benefits users.
Ensures Safety
Above all, a clean and well-maintained gas cooktop is a safe one. Dirty burners can obstruct gas flow, resulting in uneven cooking and gas leaks. A stove gas leak could lead to hazardous situations like carbon monoxide poisoning and fires. Maintaining the cleanliness of the cooktop reduces the risk of these incidents and promotes a safe cooking environment for everyone.
Improves Efficiency
Remember how essential your cooktop is and realize that neglecting it leads to several issues that can eventually decrease efficiency. When residue, grease, and dirt build up on the burners, they could start burning unevenly or at a lower temperature, requiring more gas and time for cooking. Increased cooking time and gas intake are signs your stove's efficiency is decreasing. To ensure the cooktop remains efficient and to continue improving it, clean and maintain it regularly.
Preserves the Appearance
The stove is one of the places in your kitchen to spend extra time cleaning. A gas cooktop that you regularly clean and maintain retains its appearance, making the kitchen space more attractive. A shiny, clean gas cooktop can make all the difference in the kitchen's overall ambiance.
Prolongs the Cooktop's Lifespan
Regular cleaning and maintenance can significantly extend a gas cooktop's life. Dirt, grease, and debris left on the appliance over time may lead to corrosion and deterioration of its components, significantly decreasing its lifespan. Keeping the cooktop in good condition will not only help it last longer, but you'll also avoid the inconvenience and expenses of constant repairs or premature replacement.
Enhances Food Quality
Unwanted residues and grease on a gas cooktop can affect the food's taste and quality. Dirty cooktops may produce a distinct odor that seeps into the food, altering its flavor. Therefore, cleaning and maintaining a gas cooktop is crucial in serving delicious, perfectly cooked meals.
Common Problems Don't Make Regular Appearances
Sometimes, you gas cooktop's issues may come from problems that have become more and more likely due to maintenance neglect. One of the most common is that it won't ignite. Fortunately, you can learn how to fix a gas cooktop that isn't lighting. This issue may be due to various factors, such as a faulty control valve or poor power supply. But even though many problems are fixable, it's better to avoid them altogether by taking good care of your cooktop from the start.
There are many reasons to regularly clean and maintain a gas cooktop. It's a small investment that yields significant benefits. As you move through the daily housekeeping motions, ensure you spend extra time tending to your stove cooktop each day. Remember its many benefits, and be sure to share this knowledge with friends and family.