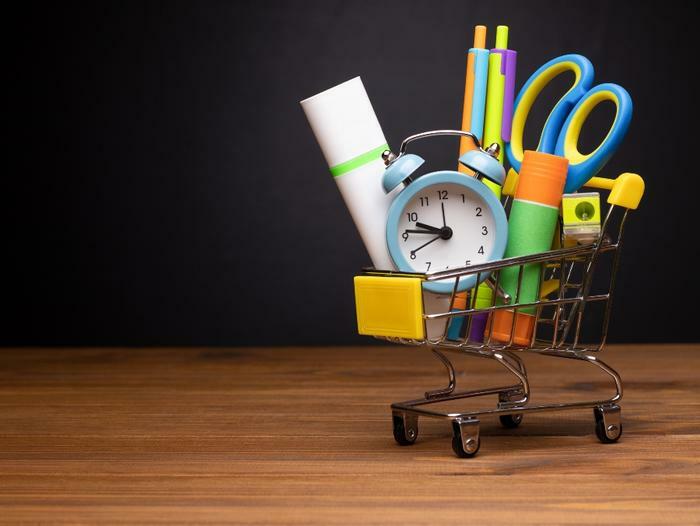 It's back-to-school time, and current levels of inflation promise to put this year into a class all by itself. The National Retail Foundation (NRF) reports that the higher prices that parents are seeing on food and gas are also showing up in back-to-class essentials like clothes and school supplies.
Even though the Consumer Price Index is at its highest level in over 40 years, consumers aren't holding back on back-to-school and college spending. In fact, the NRF says this year's expected spending is on par with last year's record highs and exceeds pre-pandemic levels.
"Necessities are the most protected segment of retail, and getting kids to school is essential for families," said Mark Matthews, the NRF's Vice President of Research Development and Industry Analysis.
Matthews notes that consumers are so focused on getting all the school items they need that they're cutting back on spending elsewhere. Consumers are also reportedly taking other measures like working additional hours to cover costs for back-to-school shopping this season.
Electronics are the new must-have
The days of pencils, paper, and notebooks have given way to electronics as the one thing students must have. Mathews said inflation has caused products like computers to rise in price by as much as 22% since 2019. Now, the amount consumers are expected to spend on electronics accounts for half of back-to-school growth and nearly one-quarter of back-to-college growth.
To take advantage of the situation, Best Buy, Dell, Apple, Amazon, and HP are all offering discounts on tech products and electronics. For example, when ConsumerAffairs looked at Best Buy deals, we found one Chromebook at an inviting sub-$100 price point. At Apple, consumers can not only get special education discounts on MacBooks and iPads, but they can also get a free $120 gift card.
While we're talking about Apple, consumers should also consider buying refurbished products. They may be slightly used, but they come with one-year warranties, 90 days of complimentary technical support, and prices that are generally at least 15% lower than the cost of a new Apple product. It's worth mentioning that Walmart just opened up a new "refurbished" platform too.
Interesting places consumers can look for deals
If there's any one thing that social media – especially Facebook – has cultivated, it's communities of like-minded people. The experts at GETIDA told ConsumerAffairs that there are a handful of social media groups on Facebook that consumers can join to get information on deals. 
"This can help in many ways. One way is large volume discounts," a GETIDA spokesperson told ConsumerAffairs. "If you only need one unit of a product, but on a certain website if you buy a minimum of three units, you get a significantly better deal, then you should be able to easily post about such an offer, and find another fellow shopper on your social media group for example, and have them join you at buying at bulk for the deal for collective savings."
Another nugget GETIDA shared was that cashback apps not only have gift cards for major online retailers at a discount, but consumers can also find unique discount codes. 
"What is nice about discounted gift cards which act as a cashback, is that you can pay for such gift cards with your credit cards. This way, you are stacking up your cashback rewards," GETIDA said.
"For example, if you find a deal to buy a $100 Nike gift card for $95 (5% cashback), but your credit card gives you a 2% cashback for purchasing the gift card, in this case, you are stacking almost at 7% cashback in rewards.
"These layers of cashback rewards can tremendously give you a firm advantage of getting more value for your money, and fighting inflation by having you, the consumer, with the upper hand," the spokesperson concluded.
Posted: 2022-08-02 18:44:27
Listen to this article. Speaker link opens in a new window.
Text To Speech BETA Test Version.