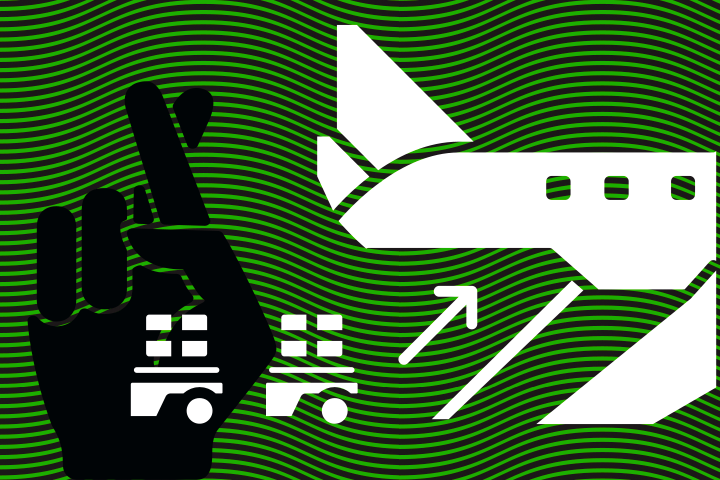 If you're flying anywhere over the holidays, there's a chance that you'll have some sort of unsavory blip with your luggage. The Department of Transportation (DOT) baggage complaints is averaging about 300,000 of those grievances for the last three months. 
Either it will be "mishandled" (a DOT term), lost completely, or you'll be given the stink eye – and told to pay – for the "carry-on" items that you swear is really a carry-on.
ConsumerAffairs has already covered the carry-on crisis which you should definitely read, but we want to update you about lost/delayed/mishandled bags.
'Delayed' bags
According to the DOT, an airline's responsibilities if they "delay" your bag are as follows:
Some airlines may offer you the advantage of using their app to track your bags. As of the moment, Southwest Airlines, along with American, Delta and United, all offer this tool for their flyers.

When a checked bag fails to arrive at its destination, airlines are responsible for finding the bag and getting it to you.
If your bag is delayed, file a claim with the airline ASAP, then stay in touch with the airline for updates. You may need to bug them rather than wait for them to call because they could be pretty busy trying to solve anything that went wrong.
What are the airlines' responsibilities when your bag is delayed?
Airlines are required to compensate passengers for reasonable, substantiated, and actual incidental expenses they may incur while their bags are delayed - subject to the maximum liability limits.
Airlines are not allowed to set an arbitrary daily amount for interim expenses.  The example the DOT gives is that an airline cannot have a policy that they will reimburse a passenger up to only $50 for each day that a passenger's bag is delayed.
'Damaged' Baggage
Airlines are responsible for repairing or reimbursing a passenger for damaged baggage and/or its contents when the damage occurs while the bag is under the airline's control during transportation, subject to maximum limits on liabilities.
Airlines are not responsible for pre-existing damage to the bag or if the damage was caused by improper packing. That's on you.
When the damage to the bag cannot be repaired, airlines will negotiate a compensation amount based on the value of the bag and its depreciation. If it's a brand new bag and you have the purchase receipt, you stand a good chance of getting a refund that's close to the original purchase price.
Can the airlines exclude liability for certain items?
The DOT gives airlines some breathing room in the liability department. Now, airlines will often exclude liability for certain categories of items like fragile items, electronics, cash, perishable items, other valuables.  These exclusions are typically listed in the airlines' contracts of carriage and fighting against those exclusions might be a tough one.

However, even though airlines are not required to cover fair wear and tear, airlines cannot exclude liability for damage to wheels, handles, straps, and other components of checked baggage. 
For domestic travel, airlines are not required to compensate passengers for items they have excluded in their contracts of carriage. For international travel, including the domestic segment of an international itinerary, airlines are responsible for these items if they have accepted them for transportation.  This applies even if passengers did not disclose when they checked in, that these items were packed in the bag.
If you have something you think is really valuable, then you should carry it on and not check it. Or you could purchase additional insurance for those valuable items.
'Lost' baggage
When does an airline consider a bag lost and never coming back?
"Airlines may have different policies to determine when a bag is officially lost.  Most airlines will declare a bag lost between five and 14 days after the flight, but this can vary from one airline to another," the DOT says.
"Whether your bag is declared lost may also depend on the type of itinerary (international vs. domestic), whether more than one airline is responsible for the flight, the airline's searching mechanism, and other circumstances. If an airline unreasonably refuses to consider a bag lost after it has been missing for an unreasonable period of time, the airline could be subject to enforcement action by the DOT."
So, what are the airlines' responsibilities when your bag is lost?
Once an airline determines that your bag is forever lost, the airline has to compensate you for your bag's contents -- subject to depreciation and maximum liability limits. Note: Airlines may require receipts or other proof for valuable items that were in the lost bags.
If you paid for baggage, the airline also has to reimburse you for that. Airlines may require receipts or other proof for valuable items that were in the lost bags. 
How to not lose your luggage during the holiday travel season
One of the great conundrums of travelers is where on God's green earth do lost bags go? Well, the answer is … Scottsboro, Ala.
It's at a place called Unclaimed Baggage, which has deals in place with domestic airlines to take in their lost luggage and, then, resell, repurpose, or recycle the contents. Most of the items -- number one being wedding rings -- are sold at the storefront in Scottsboro -- but can also be purchased online at a considerable discount.
For example, AirPods Pro, regularly priced at $249, are sold at 68% off at $79.99 and finds ready buyers thanks to the consumer trend of buying secondhand.
So who better to go to than the source to learn the tips and tricks for how not to lose your luggage?
Sonni Hood is the public relations manager at Unclaimed Baggage. Here's what she suggests: 
Label Your Bag: The number one reason a bag goes permanently lost is due to lack of identification. Ensure a luggage tag is included on your suitcase with up-to-date contact information including your name, phone number, and email address. Label the inside of the luggage as well. This can be useful if the external tag becomes detached. 
Remove Old Tags: Be sure to remove any old baggage tags from previous trips. These tags can cause confusion for baggage handlers. 
Make Your Bag Stand Out: Choose luggage that stands out or attach unique identifiers such as a distinct luggage tag, belts, or ribbons. Unique or colorful bags are less likely to be mistakenly taken by another traveler, reducing the risk of mix-ups. 
Use GPS Tracking Devices: Invest in a smart luggage tag, such as an Apple AirTag, to help keep track of your luggage.
If you don't want to go to that expense, you could also use tracking stickers like PingTags. While they don't electronically track an item, they do provide an easy way for someone to contact you if they find your bag.
Photo Credit: Consumer Affairs News Department Images
Posted: 2023-11-20 11:47:14
Listen to this article. Speaker link opens in a new window.
Text To Speech BETA Test Version.