Bears Must Bounce Back And Show Character After Collapse Against Packers
Listen To This Article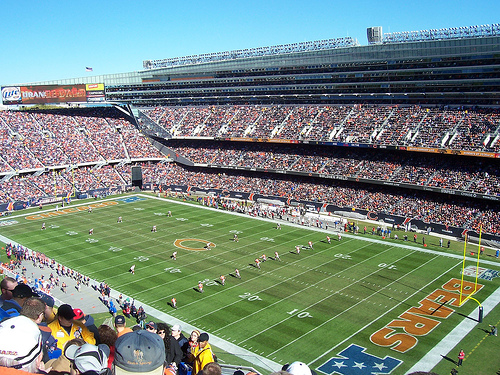 "Soldier Field" By Joon Han ( CC BY-SA 3.0)
At halftime in their first game of the regular season, Chicago Bears fans must have been in dreamland. They were winning on the road away to their nearest rivals, and things looked to be going very well for this young franchise that wants to go places. However, in the second half things took a big turn and in the end, the Bears lost the game. Going forward they simply have to bounce back; they owe it to their fans, who it would mean a lot to.
The biggest word in the Bears dressing room this week is going to be "character". It is going to take a huge amount of character to bounce back from such a defeat, and it will be a real test of this young team. On a positive note, if they play as they did in the first half of the game against the Packers, it would be no surprise to see the Bears challenge for a playoff spot this season. However, if they play as they did in the second half of that game, this season could be a big struggle for them.
A big part of the 24-23 victory for the Packers was, of course, their quarterback Aaron Rodgers. We all know that Rodgers is a special talent, capable of winning games that few others could and we saw that on Sunday. However, Rodgers also has something else that is very special and that is a determined nature and a huge amount of character.
The game tape from Sunday in the second half doesn't make for good viewing for the Bears coaching staff but if they want to show the players what character looks like, all they need to do is show how Rodgers played during that second half. You can take all his talent away from him and behind that, you see an extremely determined character who just wants to win football games every time he goes out onto the field. Players like that are rare, and the Bears need to find some inside their locker room to help them bounce back over the next few games.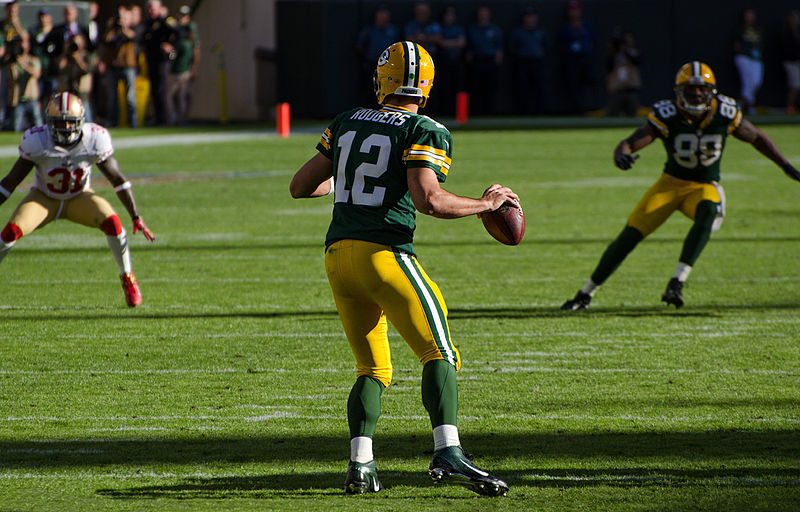 "Aaron Rodgers" By Mike Morbeck ( CC BY-SA 2.0)
Should they find those character players, then based on the first half against Green Bay they certainly have the talent to compete this season. The Bears look to be a solid group of players, with talent on both the offensive and defensive sides of the ball. A big part of that has been the acquisition of Khalil Mack, something that has given them a leader on defense.
With the talent in abundance on both sides of the football, the Bears look to be an interesting betting proposition over the next few weeks. The Bears are +1300.00 with SkyBet for their division but can be safely backed to make the playoffs with free bet offers listed on aggregator sites like Oddschecker. These give you the chance to place a bet on the Bears for one of their upcoming games, hoping that they can fulfill the promise we saw in the first half against the Packers.
If the Bears are going to succeed and have a winning campaign this season, then alongside Khalil Mack leading the defense, Mitch Trubisky is going to have to lead the offense. The 24-year-old will probably be asked to do a lot more than he would like this year, but when you have a team that has potentially the best defense in the league, sometimes you need to lean on a rookie quarterback.
While the Bears would love to give Trubisky another year to develop his game, he doesn't appear to have that time. The time is now for the Bears and they have to start challenging. Their defense doesn't need any time, and as Khalil Mack spends more time with this team, they are only going to get better. They will do their job and it is up to the offensive players to keep up their side of the bargain. This next few weeks are going to be very interesting to watch the Bears. Can they really challenge for the playoffs and a potential shot at the Super Bowl, or is this season a year too early?