MEDIA RELEASE Monday, 20 January 2020
GAME 2020
FOR IMMEDIATE RELEASE
By: Staff Writer at Eventus International
20 January 2020
Save the Date: GAME Summit: Gaming & Affiliate Marketing Expo 2020: Marketing Opportunities for Land-Based & Online Gaming
The gaming market in Greece has seen a great deal of evolutionary change unfold during the last year with a concerted effort to conclude the approval of new online gambling regulations. Earlier this month, the Greek Ministry of Finance announced the submission of their draft gambling regulations - pertaining to online gaming and online sports betting - to the European Commission for approval.
Significant developments also uncoiled on the landbased the gambling scene in 2019 with Greece finally moving on its plans to authorize the Hellinikon integrated resort casino project and a bidding process fraught with complexities.
It is amid this first time move to a fully licensed and regulated online gambling and betting system and against the backdrop of the controversial Hellinikon project, that Eventus International brings you GAME (Gaming Affiliate Marketing Expo) 2020, scheduled to take place from 17 to 18 June 2020 in Athens.
GAME 2020 will be the first event in the region to provide a comprehensive overview of the numerous investment and growth potential in the expanding Greek gaming and hospitality industry.
The summit will highlight the latest gaming regulatory updates and gather regulators, ministers, investors, operators, and service providers to explore the exciting gaming market opportunities in Greece and the surrounding nations for both land-based and online gaming.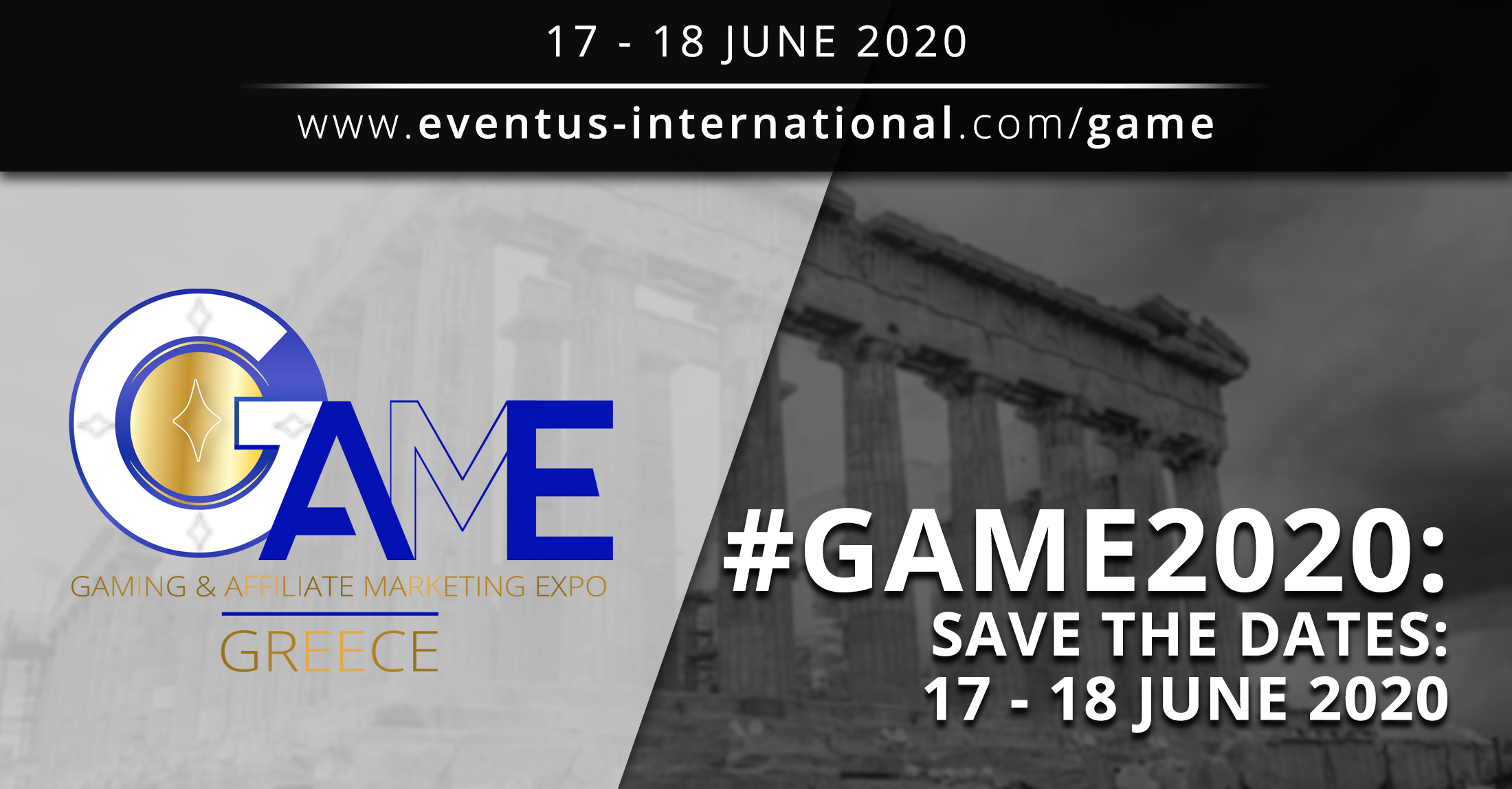 HOW GAME 2020 WILL BENEFIT YOU:
GAME attendees are guaranteed to benefit from multiple opportunities presented by the summit.
Learn from international world-class speakers
Gain from this key occasion to network with other C-Level executives in your industry
Obtain knowledge on the most current status of the gaming market in Greece and the surrounding regions
Participate in high-level, good spirited discussions
Acquire new ideas while refining your existing concepts
Discover how you can expand your business in this vibrant, evolving market
To celebrate the leap year in all its glory, Eventus International will be offering a 15% discount on all Delegate passes!
Profit from this special deal and register your seat at GAME 2020 in Athens now.
Take a leap in 2020 and attend our lineup of exciting international gaming events! Offer ends 31 January 2020.
Contact us now to find out how your company can benefit at GAME 2020:
Contact Eventus International's Marketing Director, Lou-Mari Burnett, to grow your business in Greece and beyond with our sponsorship and exhibition packages for GAME 2020.
Lou-Mari Burnett
Marketing Director
Eventus International
Email: This email address is being protected from spambots. You need JavaScript enabled to view it.
Phone: +27829075850
Eventus International is a dynamic, summit and exhibition company that connects leaders with leaders and turns opportunity into possibility. We utilise our vast networks and expertise to create forward thinking summits that align best practice and industry development with empowering content and outstanding networking opportunities.
Our summits and exhibitions have a longstanding reputation for gathering primary stakeholders in the industry to discuss the future of the gaming sector. We operate in profitable vertical industries with significant international growth potential while promoting the growth of emerging markets.
Every summit we produce is designed to provide practical solutions to strategic, tactical and technical challenges and shed light on new opportunities in the sector.
We are renowned for producing exclusive, niche events, hosting C-Level executive audiences and gathering decision-makers under the same roof while ensuring gender diversity and inclusion throughout.
The high standards that we set for ourselves are responsible for the success of events such as the Sports Betting East Africa+, SPiCE India, Sports Betting West Africa+, Cyprus Gaming Show, Scandinavian Gaming Show, AI In Gaming, International Lottery Play Summit, iGaming Germany (iGG), All-in Gaming Ukraine Summit, Gaming Affiliate Marketing Expo (GAME), Gaming Expo Francophone Africa, ACE (Affiliate Conference Expo) 2020, Play Social – Social Gaming China and the All American Sports Betting Summit.