Sports Betting West Africa+
Monday, 20 January 2020
FOR IMMEDIATE RELEASE
Sports Betting West Africa+
By: Staff Writer at Eventus International
20 January 2020, Cape Town, South Africa
Sports Betting West Africa Summit Announcement: Event Date Change
Sports Betting West Africa+ 2020 will now be taking place from 21 to 23 July 2020 at Eko Hotel Suites, Lagos, Nigeria.
Mark these dates and make sure you don't miss this highly anticipated event!
Sports Betting West Africa+ 2020 is renowned for being the most prominent gaming and sports betting summit in Western Africa, drawing gaming professionals from across the globe to network, explore the very latest gaming innovations, share best practices and get up to speed with industry progress in Africa.
Join us at SBWA+ 2020 where expert knowledge across disciplines of the gaming industry will be shared and networking opportunities with the best in business are guaranteed to generate new valuable leads. Familiarise yourself with the latest regulations, marketing techniques, cutting edge technologies and responsible gambling practices to take your business to the next level.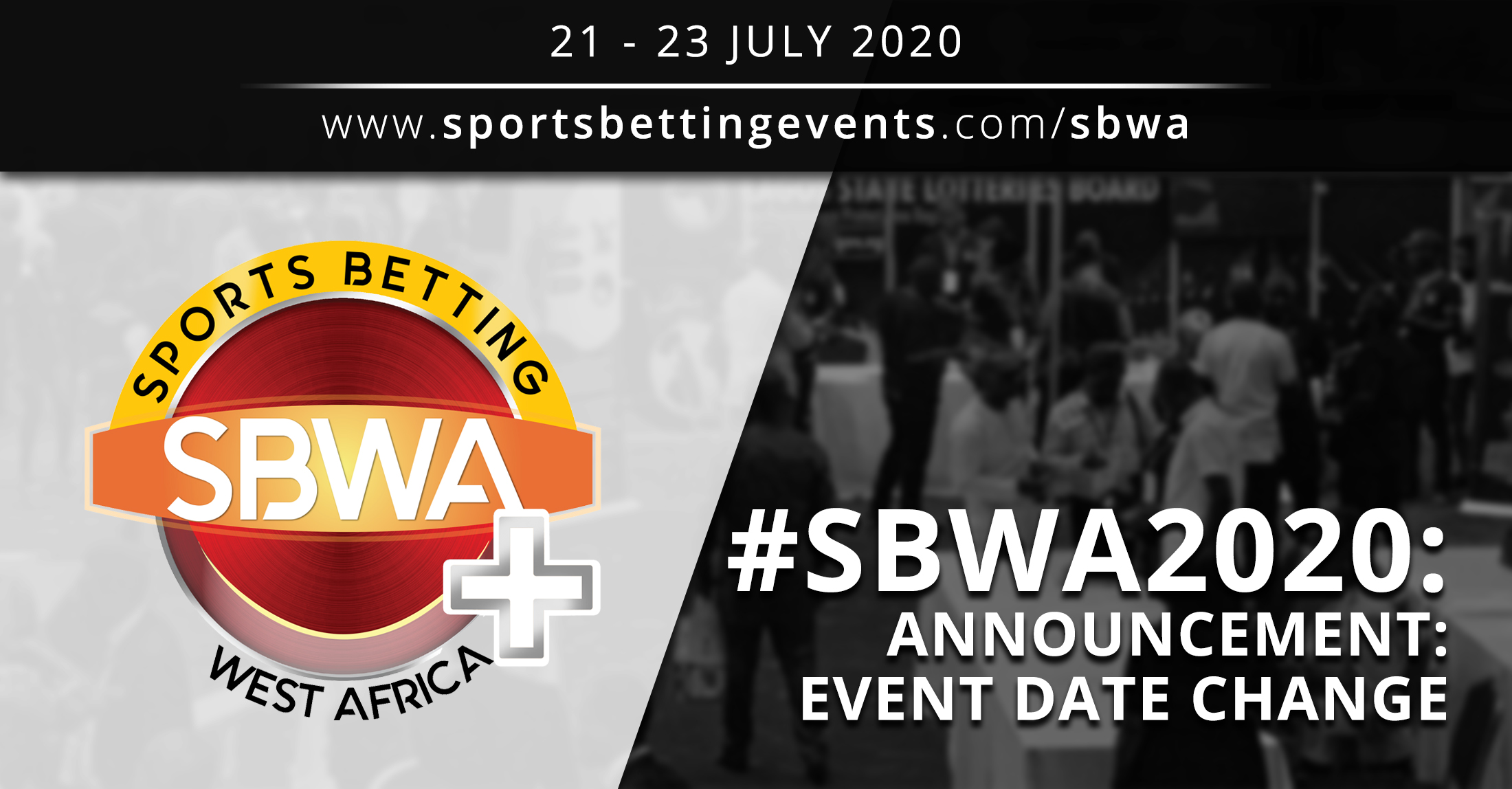 Join us and profit from the numerous opportunities SBWA+ 2020 presents!
Meet the leading operators in West Africa
Enhance your skills with global expertise from the gaming sector's most prominent stakeholders to improve and further develop your operations
Stay ahead of your competitors with new marketing strategies and tools
Be part of the forces to change and make the West African gaming industry a more lucrative market
Keep up with the regulatory bodies' planned upcoming regulations
Acquire more business within your country of operation and the rest of West Africa
Who Should Attend:
- Gaming Regulators and other Government Authorities
- Industry Associations
- Gaming Operators
- Gaming Consultants
- Bookmakers
- Lawyers and other legal consultants
- Software Providers
- Payment Solution Providers
- Marketing Companies
- Affiliate departments at international gaming operations
- Investors
- Banks
- Data Analysts and Providers
- Auditors
Don't miss out! Register for SBWA+ 2020 today.
We are honored to welcome former SBWA+ speakers and supporters and excited to introduce new speakers to our lineup for SBWA+ 2020! This is your opportunity to demonstrate and share your industry expertise at Sports Betting West Africa+ 2020 event in Lagos, Nigeria.
To enquire about speaker opportunities, please send an email to This email address is being protected from spambots. You need JavaScript enabled to view it.
To celebrate the leap year in all it's glory, Eventus International will be offering a 15% discount on all Delegate passes! Take a leap in 2020 and attend our lineup of exciting international gaming events! Offer ends 31 Jan 2020.
Contact us now to find out how your company can benefit at Sports Betting West Africa+ 2020:
Contact Eventus International's Marketing Director, Lou-Mari Burnett, to grow your business in Africa and beyond with our sponsorship and exhibition packages for SBWA+ 2020.
Lou-Mari Burnett
Marketing Director
Eventus International
Email: This email address is being protected from spambots. You need JavaScript enabled to view it.
Phone: +27829075850