MEDIA RELEASE
SPiCE 2020 Monday, 20 January 2020
FOR IMMEDIATE RELEASE
SPiCE 2020 Summit Annoucement: Two months to go to SPiCE 2020!: Event Will Interview Chitra Shah, ConversionX
By: Staff Writer at Eventus International
20 January 2020, Cape Town, South Africa
Have you booked your seat for SPiCE 2020 yet? We sure hope so as this esteemed event, known to be the largest gathering of gaming and sports betting professionals in the Indian subcontinent, is taking place in only TWO months! Join us from 25 to 27 March at the Goa Marriot Resort & Spa for the third edition of SPiCE 2020.
Not only is SPiCE 2020 your opportunity to network with industry experts from around the globe, but you will also gain invaluable knowledge from international speakers, like Chitra Shah, Director, and Business Head, ConversionX.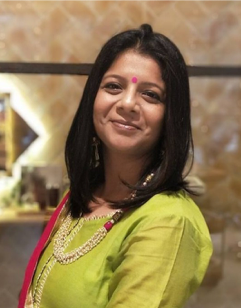 Chitra comes with immense passion and inclination with a view that says "In the Digital landscape only constant is change". This has helped our clients to stay ahead of the curve with respect to their business goals and achievement. She comes with vast experiences in Digital space from development to marketing to digital acquisitions viz dissected multiple channels. With a hold on networking, robust client relationships and business development, she comes out as a wonderful person to do business with. Leading a young and passionate team Chitra is currently Director and Business Head of ConversionX – a Performance Marketing Specialist with strong focus and expertise on Real Money Gaming platforms in India as their pivotal Digital acquisition partner.
Eventus : Please give us an intro to ConversionX, the history behind the company and introduction to your products, service and mission.
Chitra Shah:
ConversionX is a leading Performance Marketing and top digital acquisition partner to leading real money gaming brands in India. We work as digital enablers/partners for leading and pioneers gaming brands across multiple categories to help them in their growth stories and digital roadmap. Our core team comes with 10yrs+ experience including the likes of eBay, Nykaa, Snapdeal, Bata, Kartrocket & more. Some of our leading gaming clients include RummyCircle, RummyPassion, JungleeRummy, PokerBaazi, PokerStar, Pocket52, My11Circle, Fantain among others include BookMyShow, Oneplus India, ErosNow, Faasos Group, S.Chand Group, Tata Starquik, Pharmeasy, Lenskart, PolicyBazaar Group, Bira91, MCaffeine who partner with us to achieve their strategic digital and business goals. Our Digital/Performance Marketing Solutions set includes Paid Media (FB, Google), Affiliate Marketing, Targeted SMS Marketing, HyperLocal Performance Marketing, etc
Eventus : What is your approach to gaming solution development and what features help ConversionX stand out?
Chitra Shah: Our approach is to build successful strategies for top operators with respect to gaming brands for their digital growth by exploring different channels. We are one of the leading performance marketing specialists who mainly provide solutions into the gaming space with performance-driven data and analysis. We collaborate with 5,000+ affiliate partners who provide aggressive promotions with maximum traction in the gaming space.
Eventus : How many gaming solutions are currently in the portfolio and are there any new releases coming up?
Chitra Shah: Yes! We are currently providing solutions to leading gaming brands for which we are focusing on the conversion growth, ROIs and LTVs.You will see many more brands in this space on board with us in the coming year
Eventus : Can we expect additional partnerships this year?
Chitra Shah: In the year 2020, we are happy to partner with SPiCE 2020 and we will look forward to exploring further as part of our business goals and plans.
Eventus : Where do you see the company headed in the next five years?
Chitra Shah: We have been working in the gaming space for the last two and a half years and in a distant relationship with the likes of RummyCircle, RummyPassion, PokerBaazi, JungleeRummy, My11Circle and few others. We look forward to expanding our services exponentially in this vertical by providing end to end solutions for the brand's growth hence working as a partner to the brands and not as an agency. We are also in the phase of increasing our affiliate network tenfold, which will help us to reach the category of the Top 10 Performance Marketing Specialists in India.
Eventus : What do you look forward to being a part of SPiCE 2020?
Chitra Shah: SPiCE 2020 is a dynamic conference and exhibition platform which can help us to connect with leaders and network. This partnership will help us to add value to our organizational growth and future goals. We look forward to new optimistic opportunities, to explore potential business and grow specifically in the gaming sector.
Eventus : In closing, is there anything else you'd like us to know about ConversionX and the products?
Chitra Shah: Here, we would like to share our expertise which helps us to deliver an integrated digital experience for the brands includes - Affiliate Marketing, Social Marketing, Search Marketing, Retention Marketing, Content Marketing and Remarketing.
Chitra Shah looks forward to meeting you in person at SPiCE 2020 in Goa.
Take advantage of industry expertise shared by Chitra Shah and many more C-Level speakers at SPiCE 2020 and inject newly gained concepts into your business.
To celebrate the leap year in all its glory, Eventus International will be offering a 15% discount on all Delegate passes!
Act now or miss out! Register your place at SPiCE 2020 now to benefit from this discounted rate.
Take a leap in 2020 and attend our lineup of exciting international gaming events! Offer ends 31 January 2020.
SPiCE 2020 will feature an award ceremony scheduled to take place on Day Three of the event, Friday, 27 March, to celebrate Indian companies that have excelled in various fields within the gaming industry. Use this opportunity to nominate your company for the most esteemed awards in the sports betting and gaming industry. To ensure awards recognise achievements across all areas of the sports betting and gaming industry.
Submit your nominations now!
Link: https://www.sportsbettingevents.com/award-nomination-spice
Contact us now to find out how your company can benefit at SPiCE 2020:
Contact Eventus International's Marketing Director, Lou-Mari Burnett, to grow your business in Asia, Europe, Africa and beyond with our sponsorship and exhibition packages for SPiCE 2020.
Lou-Mari Burnett
Marketing Director
Eventus International
Email: This email address is being protected from spambots. You need JavaScript enabled to view it.
Phone: +27829075850
Eventus International is a dynamic, summit and exhibition a company that connects leaders with leaders and turns opportunity into possibility. We utilize our vast networks and expertise to create forward-thinking summits that align best practice and industry development with empowering content and outstanding networking opportunities.
Our summits and exhibitions have a longstanding reputation for gathering primary stakeholders in the industry to discuss the future of the gaming sector. We operate in profitable vertical industries with significant international growth potential while promoting the growth of emerging markets.
Every summit we produce is designed to provide practical solutions to strategic, tactical and technical challenges and shed light on new opportunities in the sector.
We are renowned for producing exclusive, niche events, hosting C-Level executive audiences and gathering decision-makers under the same roof while ensuring gender diversity and inclusion throughout.
The high standards that we set for ourselves are responsible for the success of events such as the Sports Betting East Africa+, SPiCE India, Sports Betting West Africa+, Cyprus Gaming Show, Scandinavian Gaming Show, AI In Gaming, International Lottery Play Summit, iGaming Germany (iGG), All-in Gaming Ukraine Summit, Gaming Affiliate Marketing Expo (GAME), Gaming Expo Francophone Africa, ACE (Affiliate Conference Expo) 2020, Play Social – Social Gaming China and the All American Sports Betting Summit.