MEDIA RELEASE
SPiCE 2020 Monday, 3 February 2020
FOR IMMEDIATE RELEASE
SPiCE 2020: Less than two months to go to SPiCE 2020! | Interview with Albert Climent
By: Staff Writer at Eventus International
3 February 2020, Cape Town, South Africa
Have you booked your seat to join the largest gathering of gaming and betting industry professionals on the Indian subcontinent?
The clock is ticking and less than two months remain before the 3rd edition of SPiCE which kicks off from 25 to 27 March at the luxurious Goa Marriott Resort and Spa.
The former two editions of SPiCE were a roaring success in driving the industry forward and inciting vital discussion on emerging markets. SPiCE 2020 is set to be another smash hit. A whopping 90% of the original exhibition floor has been sold out! Exhibitors, book now to avoid disappointment!
This week the Eventus International team had the pleasure of interviewing Albert Climent, Founder of Oneblock Technologies, one of the many world-class industry speakers who will be addressing attendees at SPiCE 2020.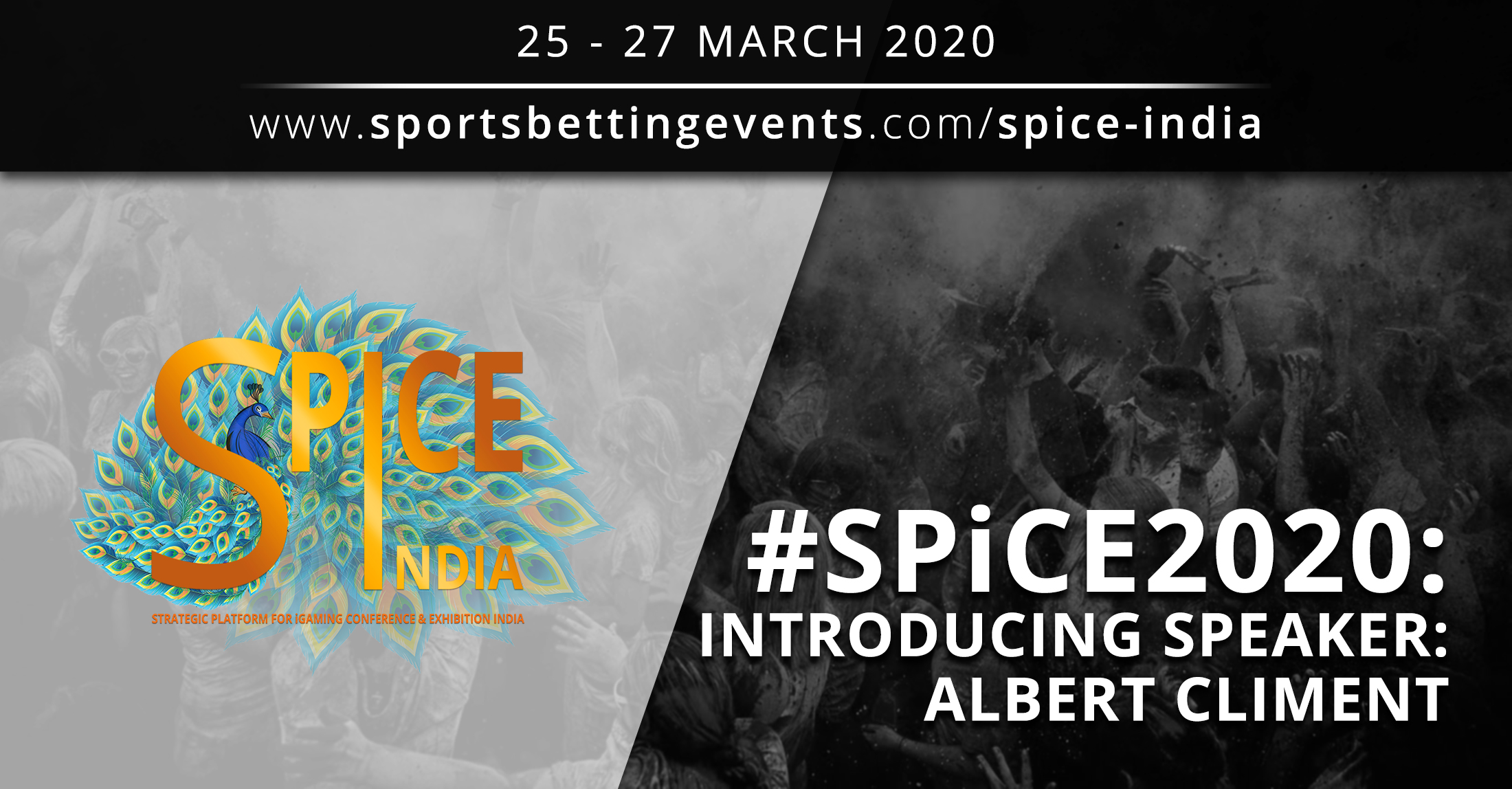 Q. What are the latest developments in the recent year attendees should look forward to hearing about at SPiCE 2020?
Albert: In the past 12-18 month, I feel that a universal and undisputed truth among international and domestic e-commerce players and investors have been established: "India is a market primed for success" … India has the highest business to consumer e-commerce growth forecast in the world, but still, online shopping only represents a minuscule percentage of total Indian retail sales... so, with this massive growth opportunity in mind, I believe this year' s SPICE should be focusing on delivering relevant and in-depth content to stakeholders who already have a "stake in the game" and are no longer just trying to decide if India is an option for them or not… there is no longer any doubt whether you should or should not be actively targeting or investing in this market… at least in my mind!
Q. What are the steps taken by the government to encourage foreign capital and improve the ease of doing business? Do you see any movement towards the regulation of sports betting and other forms of gaming?
Albert: Internet penetration is growing at exponential rates, but still leaving three out of four Indians without access, as per 2019 data. The government is undertaking a series of schemes, such as 'Digital India' and 'Skill India' to improve this figure, which is great. I believe ramping up connectivity and empowering rural India with transactional capabilities should be a priority… I am very optimistic that once overall internet connectivity grows and technologies like blockchain are embraced, ease to transact and do business will boom.
In terms of regulation, I think we will need sometime before any meaningful move towards Pan-India sports betting licensing is taken, but I am sure, sooner or later, the government will look at this matter seriously.
Q. What's next for Oneblock Technologies in the coming years?
Albert: We are great believers of blockchain technology as a tool to empower people and society to generate fair and transparent value-exchange scenarios. We would like to keep adding value in this arena.
Q. You will moderate a panel discussion titled "Addressing challenges on payment processing in India". What added value will you be sharing with the audience?
Albert: We believe in the power of "friction-free" transactional capabilities as a tool to solve some of the most complex problems in this world: poverty, social injustice, unfair market dynamics, etc…. In India, there has been a spurt in digital payments, especially after demonetization in 2016 … the scope is vast, to say the least… we have come a long way, but there's a huge way ahead. The digital payments scenario in India is in nascent stages, but it is definitely here to stay. I want to add my optimistic views about the way I see human kind transacting in the future, especially in emerging markets.
Q. What were the key takeaways from SPiCE 2019 and what were the contributing factors to its success?
Albert: I really liked SPICE2019. I loved the fact that it was a very focused, close-knit format…it allowed you to interact with all stakeholders attending, and spend high quality time with anyone you had a chance to do business with.
Q. What are your expectations from SPiCE 2020?
Albert: I want SPiCE 2020 to be at least as good as SPiCE 2019!
Albert Climent looks forward to meeting you in person at SPiCE 2020 in Goa. See more information on SPiCE 2020 and how you can register below.
Don't miss the opportunity to meet Albert Climent and many more international industry speakers at SPiCE 2020.
Register today to attend this not to be missed event, an unsurpassed opportunity to grow your network and expand your business!
To register, click here: https://www.sportsbettingevents.com/spice-rego-gateway
Contact us now to find out how your company can benefit at SPiCE 2020:
Contact Eventus International's Marketing Director, Lou-Mari Burnett, to grow your business in Asia, Europe, Africa and beyond with our sponsorship and exhibition packages for SPiCE 2020.
Lou-Mari Burnett
Marketing Director
Eventus International
Email: This email address is being protected from spambots. You need JavaScript enabled to view it.
Phone: +27829075850
Eventus International is a dynamic, summit and exhibition company that connects leaders with leaders and turns opportunity into possibility. We utilize our vast networks and expertise to create forward-thinking summits that align best practice and industry development with empowering content and outstanding networking opportunities.
Our summits and exhibitions have a longstanding reputation for gathering primary stakeholders in the industry to discuss the future of the gaming sector. We operate in profitable vertical industries with significant international growth potential while promoting the growth of emerging markets.
Every summit we produce is designed to provide practical solutions to strategic, tactical and technical challenges and shed light on new opportunities in the sector.
We are renowned for producing exclusive, niche events, hosting C-Level executive audiences and gathering decision-makers under the same roof while ensuring gender diversity and inclusion throughout.
The high standards that we set for ourselves are responsible for the success of events such as the Sports Betting East Africa+, SPiCE India, Sports Betting West Africa+, Cyprus Gaming Show, Scandinavian Gaming Show, AI In Gaming, International Lottery Play Summit, iGaming Germany (iGG), All-in Gaming Ukraine Summit, Gaming and Affiliate Marketing Expo (GAME), Gaming Expo Francophone Africa, ACE (Affiliate Conference Expo) 2020, Play Social – Social Gaming China and the All American Sports Betting Summit.