MEDIA RELEASE Monday, 16 March 2020
AGU 2020
FOR IMMEDIATE RELEASE
By: Staff Writer at Eventus International
We welcome our speaker lineup!
Eventus International brings you the first annual edition of the AGU (All-in Gaming Ukraine) 2020 summit taking place on 17 and 18 June 2020 at the Radisson Blu, Kyiv Podil.
AGU 2020 is expected to bring you the latest insights in the industry from global experts in the field. The Eventus International team is excited to add the following names to our lineup of industry-leading international speakers: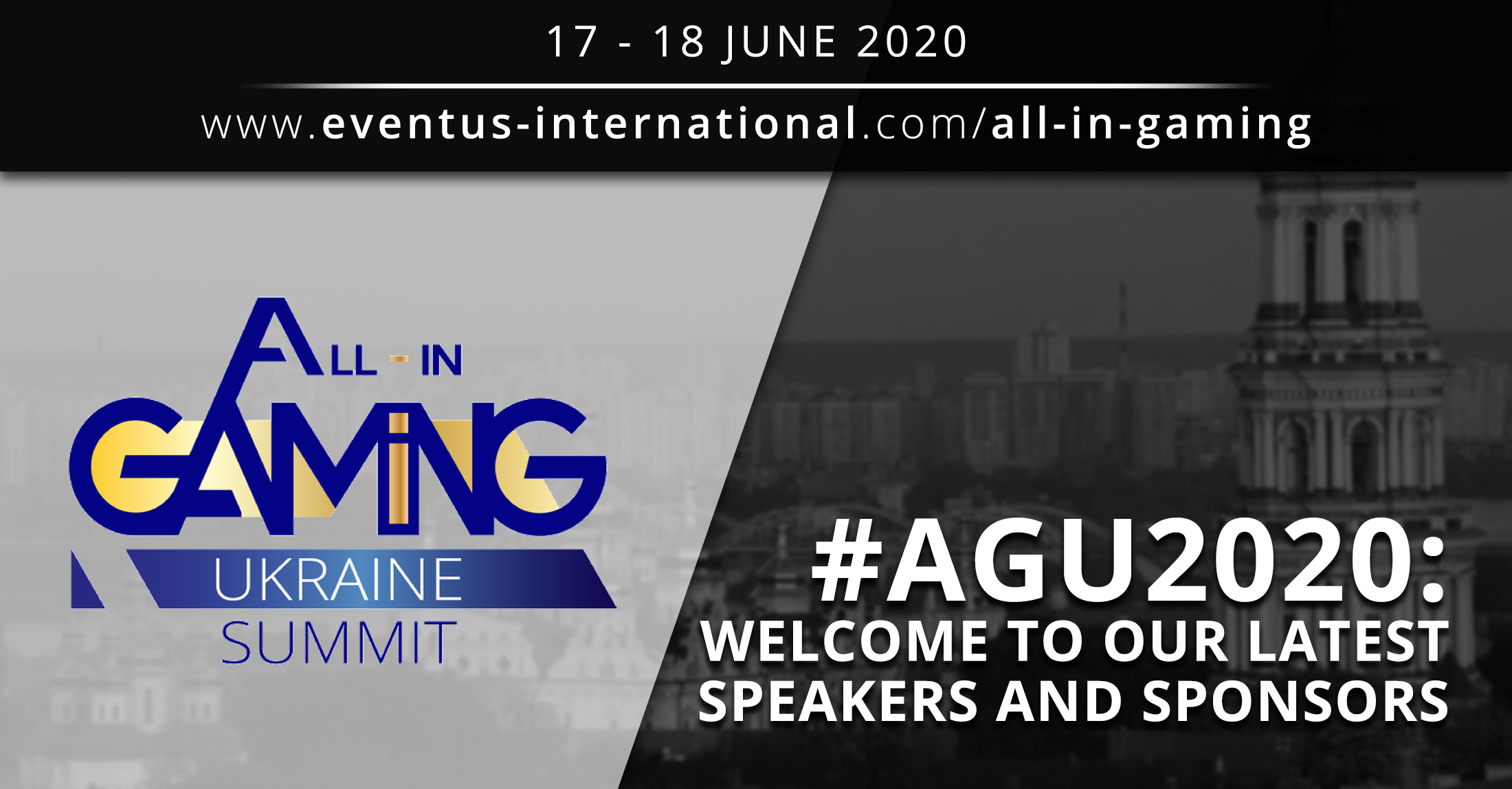 Adrien Leferve, Executive Advisor, Ronan Advisory
Alexander Kamenetskyi, Development Manager, Aspira Limited
Artem Datochnyi, Head of Practice, V3 Legal Practice
Artem Klymenko, Co-owner, Onlyplay
Bogdan Coman, Executive Director, Rombet
Bohdan Repekh, Product Owner, Game Design Lead, Wargaming
Chris Soderman, COO, Theslotsmarket
David Galea, CEO, Beat Group
Evingey Vlasenko, General Manager, MSL National Lottery Operator
Helen Walton, Founder & Chief Commercial Operator, Gamevy & Gluck
John Connolly, International Casino Cheat Detection Agency
Kate Romanenko, Head of Games, The Luck Factory
Martin Calvert, Marketing Director, ICS
Niels Herregodts, CEO, Custom Poker HUDs
Robert Brassai, Principal Consultant, Sense4Gaming
Ross Chekmarev, CBDO, Uni-Bit
Tatyana Klymenko, Senior Lawyer, Law & Trust International
Yuri Nikiforov, CEO, Manlika Project Co. Poker Management
Zafrir Feier, CEO, Suntech Innovation
In light of government reform generating new laws on gaming in Ukraine, we bring you a host of industry leaders and experts in their field to discuss the current landscape of gaming and how the industry can become profitable and work within these laws for further success. A bill (No 2285-d ) regarding the legalisation of gamIng in Ukraine has passed its first reading.
Currently, the Ukrainian Parliament is preparing for the second reading of the gaming bill. The second reading will likely take place in April or May according to Vadim Misyura, general director of the all-Ukrainian union of Bookmakers.
According to bill no 2285-d there are two licenses available for operating an online casino.
Land-based casinos can only be located in 5-star hotels with at least 150 rooms in Kyiv and at least 100 rooms in other Ukrainian cities. The new law recognizes both online and offline poker. Operators who have chosen online poker are required to hold a license for organizing and conducting poker games.
The summit will cover the following topics:
Legislation and regulation
Gaming regulation reform outlook
Gaming advertisements
Responsible gaming programme
Payment blocking and restrictions
Marketing in regulated markets
New emerging products
AML
Why you should attend:
There will be 50% more interactive features and networking time
You will benefit from 50% more interactive features and networking time
There will be cutting edge discussions
You will mix with leading operators and regulators
You will join the pre-arranged speed networking service to plug you into the gaming ecosystem
Eventus International is excited to welcome Jeton on board as the lanyard sponsor for AGU.
Jeton Wallet is an FCA licensed e-wallet providing individuals and businesses secure and fast money transfers. Jeton provides local and global payment methods worldwide using a single platform, as well as virtual IBAN's in select countries. Jeton's convenient, user-friendly interface removes all the friction between you and your money with transparent and competitive fees. Customers can deposit, withdraw, send, pay and exchange money easily in one platform with Jeton Wallet.
To view the agenda click here: https://www.eventus-international.com/all-in-gaming
To register and secure your seat at AGU 2020, click here https://www.eventus-international.com/all-in-gaming
Contact us now to find out how your company can benefit at AGU 2020:
Contact Eventus International's Marketing Director, Lou-Mari Burnett, to grow your business in Ukraine with our sponsorship and exhibition packages for AGU 2020.
Lou-Mari Burnett
Marketing Director  
Eventus International
Email: This email address is being protected from spambots. You need JavaScript enabled to view it.
Phone: +27829075850
Eventus International is a dynamic, summit and exhibition a company that connects leaders with leaders and turns opportunity into possibility. We utilize our vast networks and expertise to create forward-thinking summits that align best practice and industry development with empowering content and outstanding networking opportunities.
Our summits and exhibitions have a longstanding reputation for gathering primary stakeholders in the industry to discuss the future of the gaming sector. We operate in profitable vertical industries with significant international growth potential while promoting the growth of emerging markets.
Every summit we produce is designed to provide practical solutions to strategic, tactical and technical challenges and shed light on new opportunities in the sector.
We are renowned for producing exclusive, niche events, hosting C-Level executive audiences and gathering decision-makers under the same roof while ensuring gender diversity and inclusion throughout.
The high standards that we set for ourselves are responsible for the success of events such as the Sports Betting East Africa+, SPiCE India, Sports Betting West Africa+, Cyprus Gaming Show, Scandinavian Gaming Show, AI In Gaming, International Lottery Play Summit, iGaming Germany (iGG), All-in Gaming Ukraine Summit, Gaming & Affiliate Marketing Expo (GAME), Gaming Expo Francophone Africa, ACE (Affiliate Conference & Expo) 2020, Play Social – Social Gaming China and the All American Sports Betting Summit.