MEDIA RELEASE 2020
Eventus International brings you a Pre-AGU (All-in Gaming Ukraine) 2020 Webinar: A Sneak Peek of 2019 developments and What to Expect at AGU 2020
FOR IMMEDIATE RELEASE
By: Staff Writer at Eventus International
Eventus International brings you The Pre-All-In Gaming Ukraine Summit webinar, a product of the new EI Online webinar focussed platform. EI Online has been created to combat the various travel challenges across the globe currently, bringing a part of the conference to you directly. The AGU 2020 summit will still take place on the 17 and 18 June 2020 in Kyiv. The webinar is conveniently accessible on the platform Zoom and can be attended online from the comfort of your own home or selected venue.
The webinar will take stock of recent developments in the gaming industry, hits and misses in the last year and predictions for 2020. The date of the webinar is Tuesday, 15 April 2020 from 11:30 GMT onwards.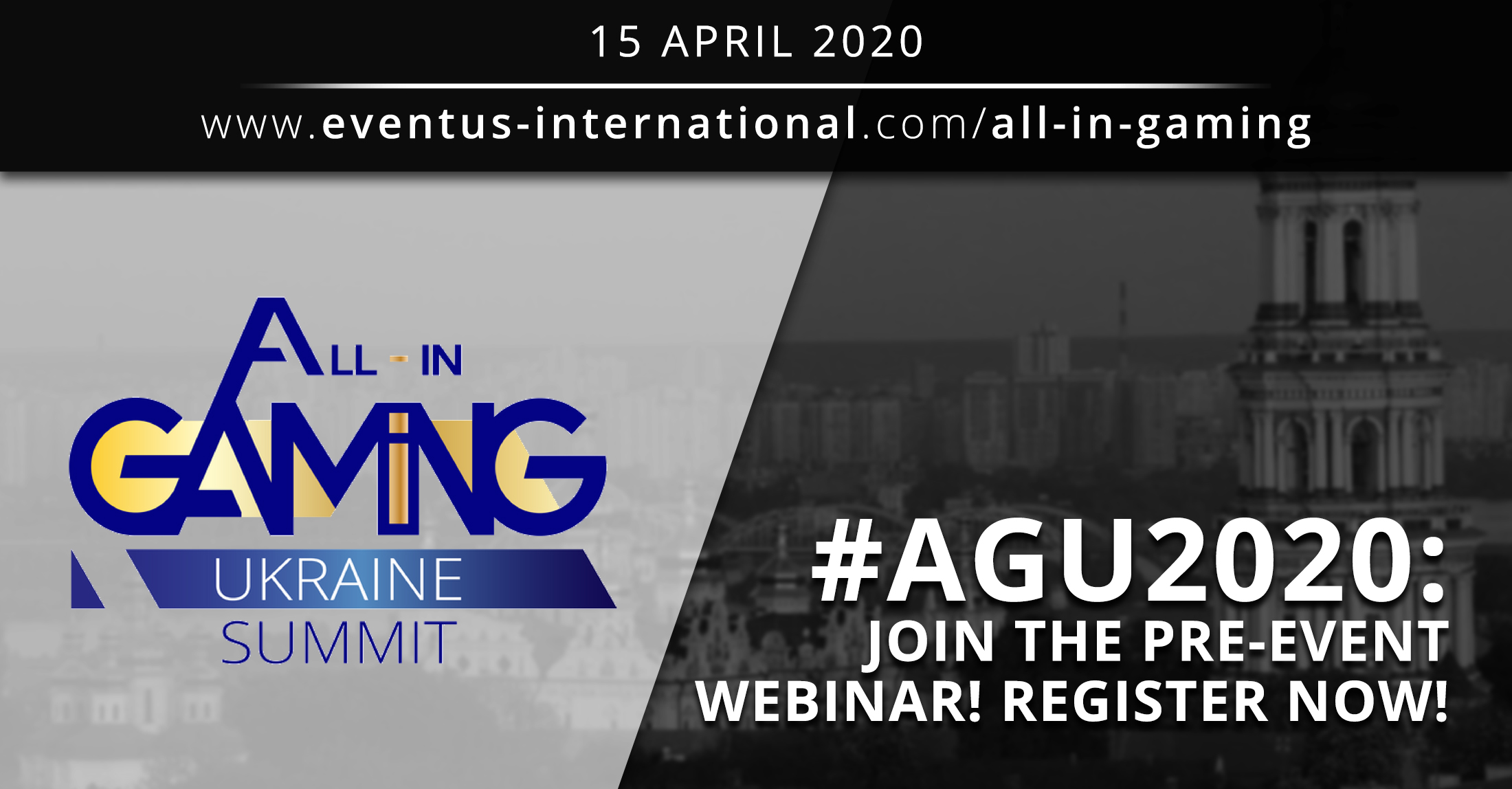 Panellists are:
Tatyana Klymenko, Senior Lawyer, Law and Trust International
Ross Chekmarev, Sales Operations Lead and Head of Casino Branch, Room 8 Studio
IIya Machavariani, Associate at Dentons, Head of Russian CIS Gambling and Gaming Practice
David Galea, CEO, Beat Group
Martin Calvert, Marketing Director, ICS Digital
The Moderator is:
Robert Brassai, Strategic Advisor, and Chairperson, AGU 2020
Taking this webinar online has many benefits for our participants. You will not have to find several days in your busy schedules to set aside to travel to a venue. This webinar is cost-effective. It is free to our AGU delegates that have already paid for their tickets or will cost US$50 to those who haven't secured a ticket for AGU 2020.
The panelists are industry leaders and experts in their fields with a broad knowledge of regulatory affairs and legislation concerns in Ukraine. They are also abreast of what's happened in the gaming industry throughout 2019 and what the latest innovations are that have been made. The Russian population is currently waiting for the second reading of Bill No 2285-d regarding the legalization of gamIng in Ukraine. The second reading will likely take place in April or May according to Vadim Misyura, general director of the all-Ukrainian union of Bookmakers.
According to bill no 2285-d there are two licenses available for operating an online casino.
Land-based casinos can only be located in 5-star hotels with at least 150 rooms in Kyiv and at least 100 rooms in other Ukrainian cities. The new law recognizes both online and offline poker. Operators who have chosen online poker are required to hold a license for organizing and conducting poker games.
During the webinar, you can scan lists of names of participants in no time and network with multiple people instantly! You can look up fellow attendees online to find out more about them whilst you chat to them online. This can help you gain insights on the person to support your effort in building a relationship with them as a networking opportunity.
We welcome this online webinar opportunity and expect it to be a big success and we also appreciate it can be hard to travel at this time during the corona-virus outbreak.
To book your space on the webinar click here: https://www.eventus-international.com/ei-online