EI ONLINE Webinars Special
By: Staff Writer at Eventus International
13 April 2020, Cape Town
Two-for-one webinar deal!
With several compelling and successful webinars behind us, the Eventus International team is looking forward to our upcoming webinars lined up for the next few weeks.
This week, we are pleased to bring you a great offer: register for two webinars and pay only for one!
Invest in yourself and your business by joining us to gain from cutting edge knowledge that will be shared with attendees by the world's top gaming industry mavens.
The lineup of topical gaming industry webinars include: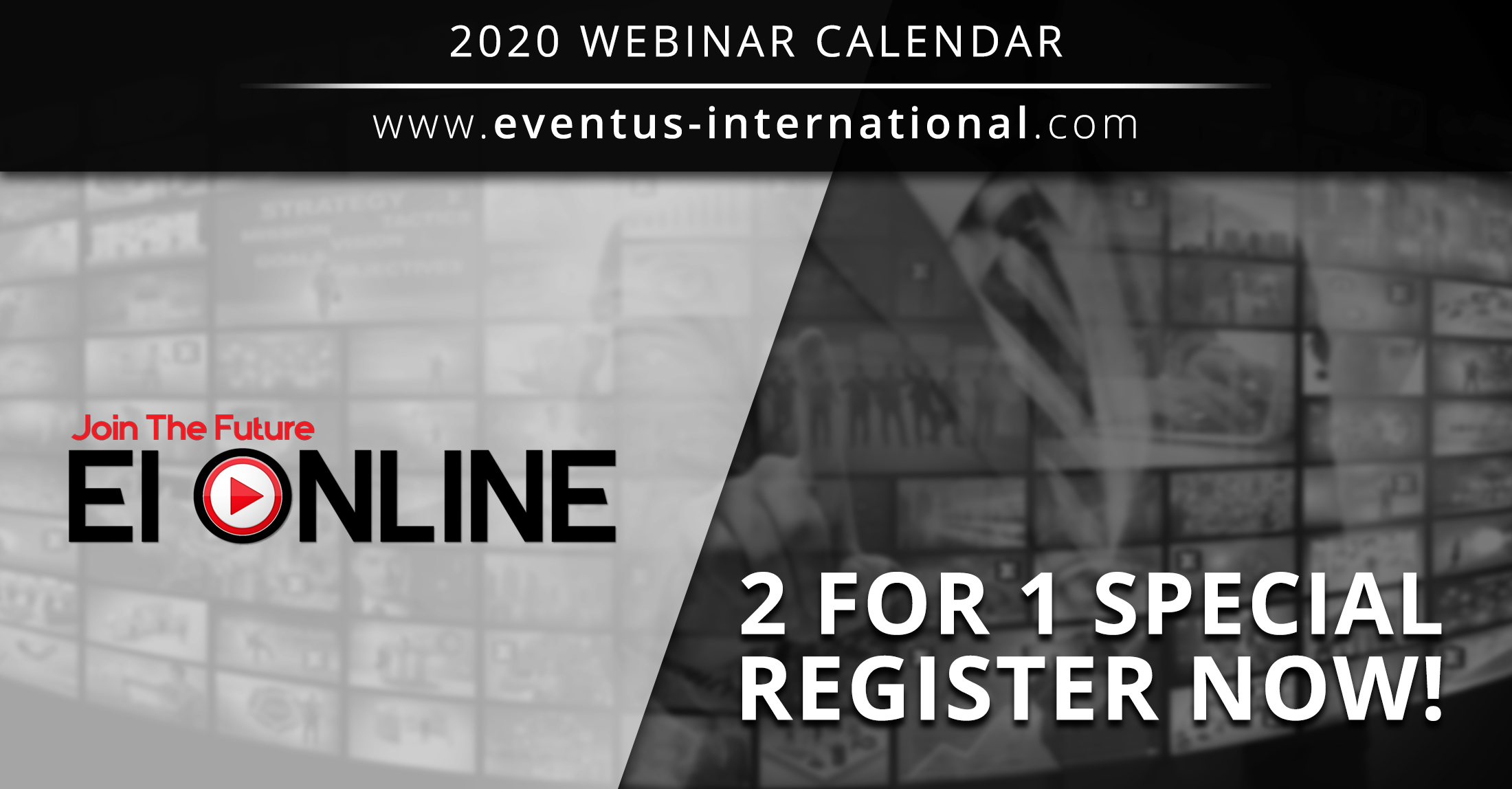 A sneak peek of 2019 developments and what to expect at AGU 2020
Date: Wednesday, 15 April 2020
Time: 11:30 GMT onwards
The Eventus International team is expanding their territory to Ukraine this year with the hosting of AGU (All-in Gaming Ukraine Summit) 2020 in Kyiv. As a prelude to AGU 2020, this webinar will assess recent developments in the gaming industry while examining hits and misses in the last year and discussing predictions for the near future. Moderated by Robert Brassai, Strategic Advisor and Chairperson, AGU 2020, the webinar is a must for every serious gaming professional.
Panellists:
Tatiana Klimenko, Senior Lawyer, Law & Trust International
Ross Chekmarev, Sales Operations Lead & Head of Casino Branch, Room 8 Studio
IIya Machavariani, Associate at Dentons, Head of Russian CIS Gambling and Gaming Practice
Martin Calvert, Marketing Director, ICS Digital
The convergence of gambling and eSports
Date: Thursday, 16 April 2020
Time: 12:00 GMT onwards
This eagerly awaited webinar, moderated by Keith McDonnell, CEO, KMigaming, will join together top industry leaders to explore the ultimate merge of two powerhouse industries: gambling and eSports. Make sure you join us for this session to uncover great opportunities to watch out for.
Panellist:
Grant Johnson, CEO, Sports Entertainment Group
James Coxon, Business Development Director, SBTech
Marek Suchar, Head of Partnerships, Oddin
THE LAS VEGAS LESSON: Making marketing work with product and calendar changes
Date: Wednesday, 22 April 2020
Time: 17:00 GMT onwards
This session will examine how to make marketing work despite product challenges and amidst cancelled sports calendars. Attendees are guaranteed to benefit from this expert debate on marketing strategy and philosophy, moderated by Ismail Vali, CPMO, A GAME ABOVE.
Panellist:
Bill Pascrell III, Strategic Advisor/Public & Government Affairs Professional/Lobbyist, Princeton Public Affairs Group Inc
Lee Ashby, Customer Engagement Consultant, Lee Ashby Consulting
Pedro Almeida, Country Manager Portugal, SkillOnNet
A Webinar on Gender & Diversity in Gaming Industry - "Levelling the Playing Field"
Date: Thursday, 23 April 2020
Time: 11:30 GMT onwards
Gender disparity is especially reflected in the gaming industry where women are still under-represented at the top level. Despite this, there is no lack of high performing and dynamic women shaping the gaming sector.
Lead by Christina Thakor-Rankin, Principal Consultant, 1710 Gaming UK, this webinar brings together a group of female pioneers in the gaming industry to highlight challenges, propose solutions and discuss ways to level the playing field going forward.
Panellists:
Amy Remes, CEO, Kootac Trading LTD
Isobel John, Head of Regulatory Compliance and AMLRO, Melco Resorts & Entertainment
Judy Kiragu, Director, Golden Key Casino
Ranjana Adhikar, Co-head Media Entertainment & Gaming Practice, Nishith Desai Associates
Don't miss out on these significant discussions!
What is in it for you?
>>>Gain the opportunity to interact with other attendees registered
>>>Have your questions answered by industry experts
>>>Presentations will be available to registered attendees afterwards
>>>A recording of the webinar will be available on request to registered attendees
Book now and capitalise on the great two-for-one deal! The offer is only valid until Monday, 20 April 2020. To register, go to https://www.eventus-international.com/ei-online
Become a Sponsor:
Now you have the opportunity to profit from our webinars and promote your brand by becoming a sponsor.
Obtain a brand logo and company profile placement during our webinars.
Contact us now to find out how your company can benefit at EI ONLINE:
Contact Eventus International's Marketing Director, Lou-Mari Burnett, to grow your business through EI ONLINE with our sponsorship packages.
Lou-Mari Burnett
Marketing Director
Eventus International
Email: This email address is being protected from spambots. You need JavaScript enabled to view it.
Phone: +27829075850