Upcoming EI ONLINE Webinars
By: Staff Writer at Eventus International
Don't miss our lineup of free upcoming webinars!
The team at Eventus International is pleased to continue doing what they do best - deliver world-class industry content to their customers - through an ongoing webinar series.
The next few weeks there will be no shortfall of engaging conversations on pertinent issues in the gaming industry, led by global market leaders.
Here you will find a schedule of upcoming webinars covering a variety of industry-related topics across various regions.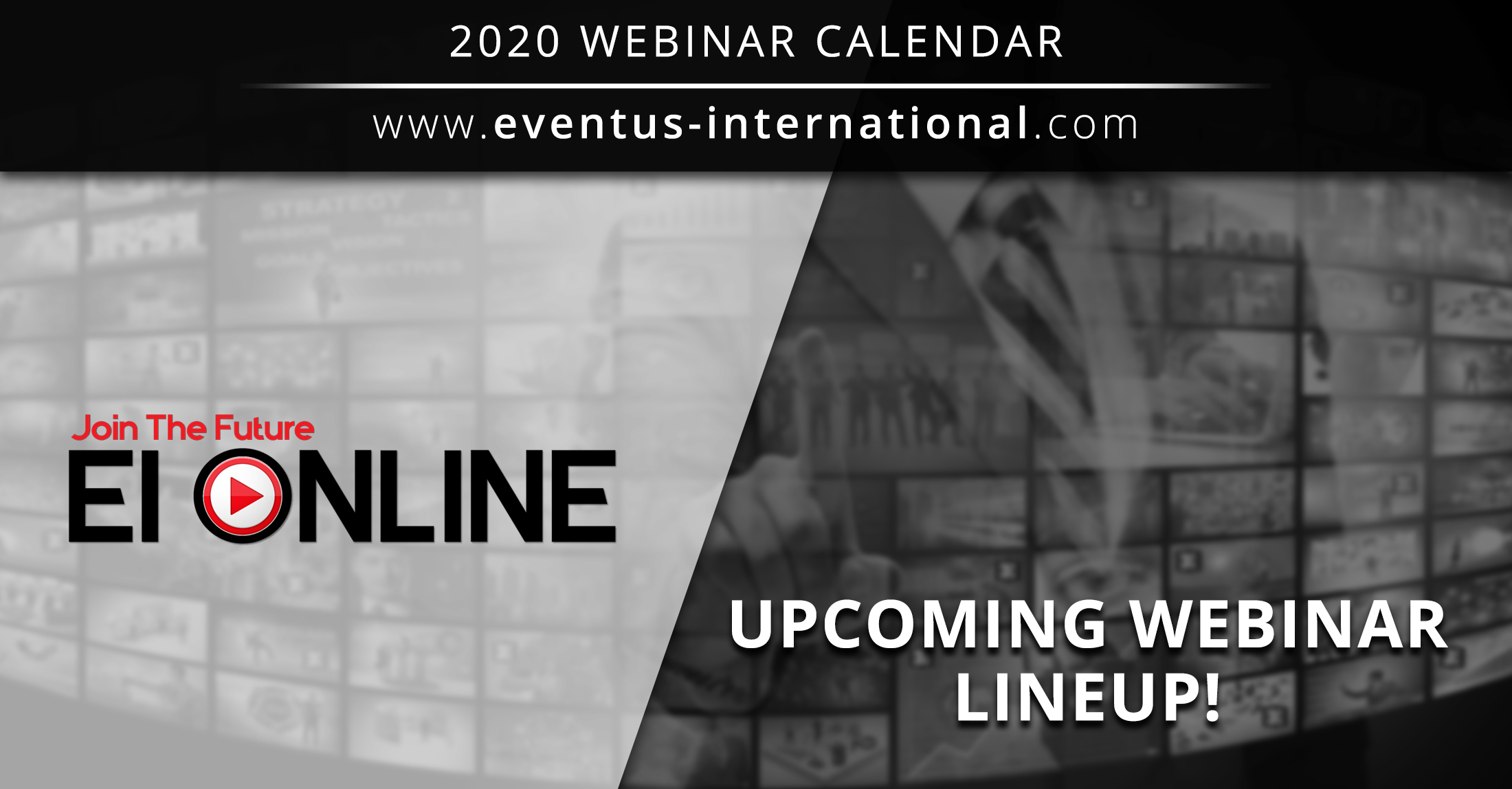 Tiding Over the Economic Crisis in India Post COVID-19
Date: 6 May 2020
Time: 17:30 IST |12:00pm GMT | 8am ET | 1pm UK | 2pm CET
The COVID-19 pandemic has created an unprecedented economic crisis across the world. This webinar will discuss the economic situation in India in the post corona world and the stimulus measures and reforms that the government should undertake to alleviate the sufferings of millions of citizens who would face unemployment and penury because of the crisis.
Exploring Sports Betting Opportunities in West Africa
Pre-event webinar for Sports Betting West Africa+
Date: 13 May 2020
Time: 12:00pm GMT | 8am ET | 1pm UK | 2pm CET
The SBWA+ webinar will explore the latest insights on sports betting innovations. What's working and what's not working? The future of the sports betting industry in West Africa will be discussed. Light will be shed on how operators and suppliers can enter these markets. Our panel will look into which games are the most popular in West Africa right now. This is anticipated to be a very insightful webinar hosted by a panel of industry-leading experts.
Virtual Sports - an established product with a new dawn and fresh opportunity
Date: 14 May 2020
Time: 12:00pm GMT | 8am ET | 1pm UK | 2pm CET
Although not a new product, virtual sports has been catapulted into the iGaming industry limelight following the elimination of sports across the globe.This webinar will explore why it has become so important to operators and whether it will stand the test of time when sports returns.
How to keep customers and employees engaged during lockdown' - the business case for diversity and inclusion
Date: 20 May 2020
Time: 12:00pm GMT | 8am ET | 1pm UK | 2pm CET
In this session, the panel will explore opportunities to engage consumers in product thinking during this lockdown period and discuss ways to re-engineer and re-strategise business thinking. The dialogue will also focus on the agility of businesses in the industry to transform work practices to promote diversity and inclusion in the workplace.
The webinar brings together a group of experts in the gaming industry to examine the adoption of new methods that may replace the old way of doing things, going forward.
Exploring iGaming Opportunities in Germany
Pre-event webinar for iGG (iGaming Germany)
Date: 27 May 2020
Time: 12:00pm GMT | 8am ET | 1pm UK | 2pm CET
There have been a lot of developments during the last few months on the iGaming front in Germany and with the recent interruption in the country's sports betting licensing process, the region has become a focal point in the industry. This webinar will assess the current status of iGaming in Germany while exploring the opportunities presented in this market.
One-Day Virtual iGaming Conference
Date: 3 June 2020
Time: 11am SAST| 9am GMT | 5am ET | 10am UK | 2pm CET
The virtual conference will consist of:
2 Solo Presentations
2 Panel Discussions
3 Breaks
4 Product Video Features
The conference is estimated to conclude by 6pm SAST.
Exploring iGaming Opportunities in Chile
Pre-event webinar for CiG (Chile iGaming)
Date: 10 June 2020
Time: 12:00pm GMT | 8am ET | 1pm UK | 2pm CET
The Latin American iGaming market has seen significant growth over the last few years. Chile iGaming 2021 will examine the challenges faced by gaming operators and suppliers (land-based, sports betting and payment solutions) and discuss the current gaming market in the Latin America region. This pre-event webinar turns the spotlight on developments in Chile and will explore the opportunities in the iGaming industry in Chile.
Exploring iGaming Opportunities in Scandinavia
Pre-event webinar for Scandinavian Gaming Show
Date: 24 June 2020
Time: 12:00pm GMT | 8am ET | 1pm UK | 2pm CET
With Scandinavian countries offering the highest quality of living, as well as a booming online gaming market, the region is of huge interest to industry professionals despite stringent regulations.
This pre-event webinar will gather top global gaming experts to assess the potential in the Scandinavian iGaming arena.
Exploring iGaming Opportunities in Francophone Africa
Pre-event webinar for Gaming Expo Francophone Africa
Date: 1 July 2020
Time: 12:00pm GMT | 8am ET | 1pm UK | 2pm CET
The online gaming industry in Africa has seen rapid growth over the past few years with a burgeoning interest in iGaming in the Francophone African countries. As a pre-event to Gaming Expo Francophone Africa 2021, this webinar will gather a panel of industry experts to assess the iGaming opportunities in Francophone Africa.
Pre-event webinar for the International Lottery Play Summit
Date: 8 July 2020
Time: 12:00pm GMT | 8am ET | 1pm UK | 2pm CET
The inaugural International Lottery Play Summit concluded successfully in February 2020 in Dubai. The event set the stage for the forthcoming edition in 2021 which is set to gather acclaimed professionals in the lottery industry, stakeholders from the UAE and surroundings. This pre-event webinar will evaluate the current state of the global lottery market and discuss trends and opportunities in this sector.
Pre-event webinar for AI In Gaming
Date: 15 July 2020
Time: 12:00pm GMT | 8am ET | 1pm UK | 2pm CET
There are a myriad of ways in which AI converges with online gaming. Ranging from improved customer experience to responsible gaming, the use of AI in online gaming is limitless. The webinar will discuss how AI revolutionises the gaming landscape, examine challenges posed and explore future solutions.
Sign up now to benefit from the expert insights that will be shared during these discussions!
To register, go to https://www.eventus-international.com/ei-online
Become a Sponsor:
Now you have the opportunity to profit from our webinars and promote your brand by becoming a sponsor.
Obtain a brand logo and company profile placement during our webinars.
Contact us now to find out how your company can benefit at EI ONLINE:
Contact Eventus International's Marketing Director, Lou-Mari Burnett, to grow your business through EI ONLINE with our sponsorship packages.
Lou-Mari Burnett
Marketing Director
Eventus International
Email: This email address is being protected from spambots. You need JavaScript enabled to view it.
Phone: +27829075850