Eventus International Weekly Overview
By: Staff Writer at Eventus International
25 May 2020, Cape Town
Weekly Overview: Focus on the African gaming industry
This week Eventus International offers an overview of our gaming events in Africa.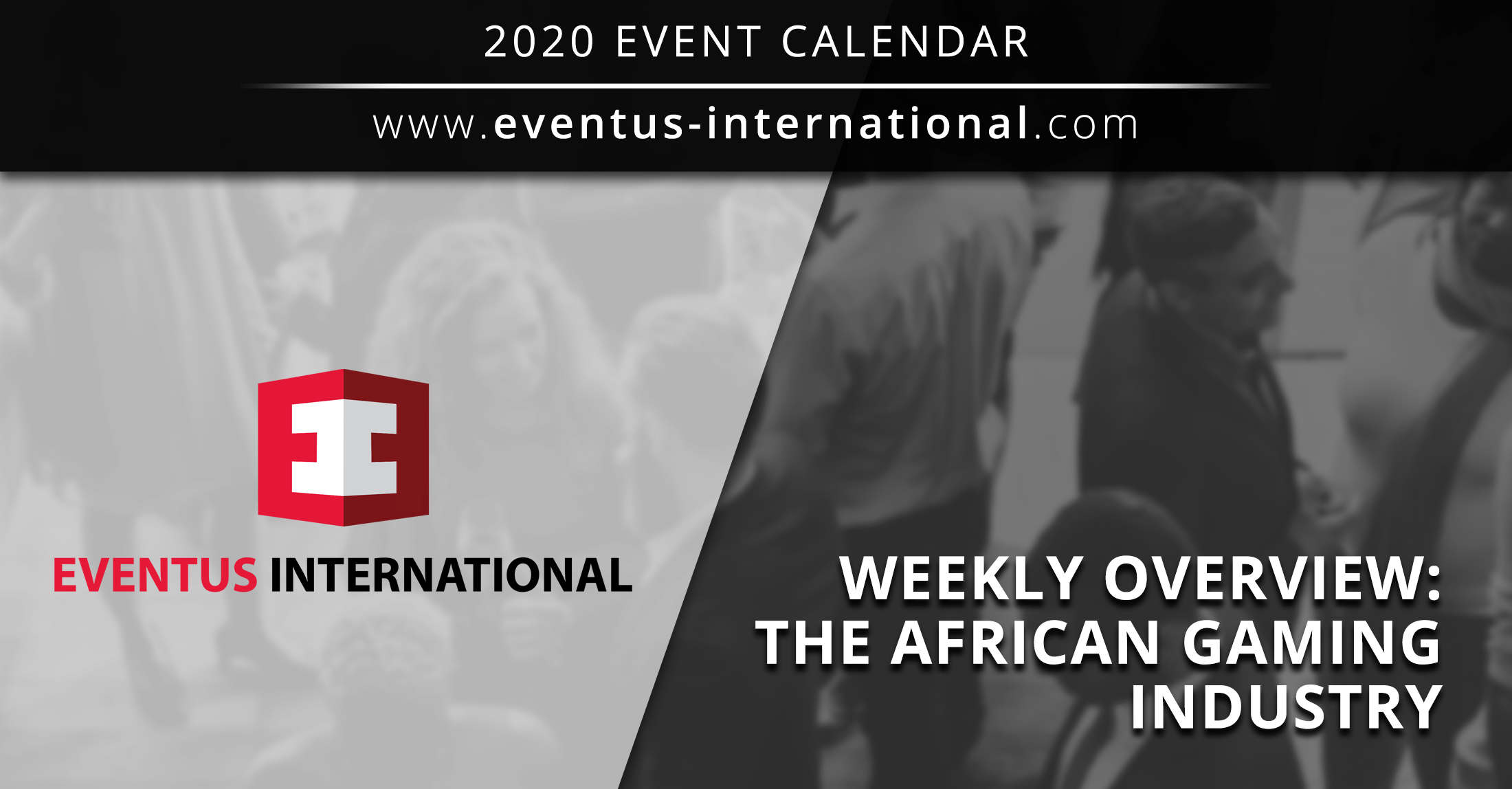 SBWA+ (Sports Betting West Africa+) 2020
The 6th Annual Edition of SBWA+ is scheduled to be held from 19 to 20 August 2020 at the Eko Hotel & Suites in Lagos, Nigeria. Since the inaugural edition in 2015, SBWA+ has established itself as the most distinguished sports betting and gaming event on the African continent.
SBWA+ 2020 is set to uphold its reputation for uniting local and international gaming and sports betting professionals to explore the unlimited opportunities West Africa has to offer.
Delegates can expect expert insights from more than 40 speakers at the forefront of the industry covering the gambling tax framework in Nigeria, mobile gaming opportunities, developments shaping the future of gaming and sports betting in Africa, and much more.
The Eventus International team is excited to introduce the latest exhibitor, Kili Virtuals, a brand of KiliGames. Kili Virtuals provides virtual games services according to the latest standards. They offer first-rate software solutions and unmatched customer service. We are looking forward to welcoming Kili Virtuals to SBWA+ 2020.
To see what you can expect from this year's SBWA+, click here https://youtu.be/4azEJ4hSKdc
Register here https://www.sportsbettingevents.com/sbwa-rego-gateway
SBEA+ (Sports Betting East Africa+) 2020
SBEA+ is set to take place from 20 to 21 October 2020 at the Kampala Serena Hotel in Kampala, Uganda.
SBEA+ has repeatedly proved to not only be a prominent gaming summit and exhibition but also a vital focus for East African operators, regulators and other industry game players. Each former edition of the summit has been marked by great success and SBEA+ 2020 will be no exception.
Eventus International is pleased to announce the speakers confirmed to date:
Aggrey Sayi, Country Marketing Manager, OdiBets
Christina Thakor-Rankin, Principal Consultant, 1710 Gaming Ltd. (UK)
Denis Kikonyogo, Head of Business Development, Champion Bet
Devon Dalbock, General Manager, Gaming Labs
Felix Mukaxe, Gambling Inspector, Mozambique Gambling Board
Frank Harold, Business development Director / Member of the board, EMIRAT
Isaac Imaka, Chairman, Responsible Gaming & Betting Operators Network
James Mbalwe, DG, Gaming Board of Tanzania
Jean Claude Mushimire, Services Industry Development Policy Officer, Ministry of Trade Industry and East African Community Affairs, Rwanda
Kaleb Stanislav, Head of Gaming Operations, Betika
Paul Corti Lakuma, Research Analyst, EPRC
Tayo Atoloye, Country Manager, Panserve
Zaheer Nathani, CEO, BestBet
Register here https://www.sportsbettingevents.com/sbea-rego-gateway
GEFA (Gaming Expo Francophone Africa) 2021 - announcing the new date
GEFA will now take place from 19 to 20 August 2021 in Casablanca, Morocco. Set to unite African and European gaming and sportsbook industry professionals, the event will explore growth strategies and market development for the gaming sector in the Francophone African region.
Join GEFA 2021 to discover current and future trends in the gaming industry as well as the latest in online and mobile sports betting innovation.
Register here https://www.platform-infinity.com/gefa
Announcing our Midyear June Special
Receive a 10% discount on any online advertisement and sponsorship packages. Book by 19 June 2020 to qualify for this offer!
Receive a 10% discount on any live event exhibition and sponsorship packages. Book packages for three or more of our upcoming live shows and receive a further 10% discount.
To take advantage of this incredible offer, ensure to book your package by 15 June 2020!
Contact us now to find out how your company can benefit from our summits:
Contact Eventus International's Marketing Director, Lou-Mari Burnett, to grow your business in Asia, Europe, Africa and beyond with our sponsorship and exhibition packages for the listed events.
Lou-Mari Burnett
Marketing Director
Eventus International
Email: This email address is being protected from spambots. You need JavaScript enabled to view it.
Phone: +27829075850
Eventus International is a dynamic, summit and exhibition company that connects leaders with leaders and turns opportunity into possibility. We utilise our vast networks and expertise to create forward thinking summits that align best practice and industry development with empowering content and outstanding networking opportunities.
Our summits and exhibitions have a longstanding reputation for gathering primary stakeholders in the industry to discuss the future of the gaming sector. We operate in profitable vertical industries with significant international growth potential while promoting the growth of emerging markets.
Every summit we produce is designed to provide practical solutions to strategic, tactical and technical challenges and shed light on new opportunities in the sector.
We are renowned for producing exclusive, niche events, hosting C-Level executive audiences and gathering decision makers under the same roof while ensuring gender diversity and inclusion throughout.
The high standards that we set for ourselves are responsible for the success of events such as the Sports Betting East Africa+, SPiCE India, Sports Betting West Africa+, Cyprus Gaming Show, Scandinavian Gaming Show, AI In Gaming, International Lottery Play Summit, iGaming Germany (iGG), All-in Gaming Ukraine Summit, GAME Greece, Gaming Expo Francophone Africa, ACE (Affiliate Conference & Expo) 2020, Play Social – Social Gaming China and the All American Sports Betting Summit