Weekly Gaming Industry Overview: Get up to speed with the latest news on our events, specials and launches.
By: Staff Writer at Eventus International
"Wake me up when September ends"
The gaming industry is steadily rising from months of lockdown slumber. September 2020 is the month when Eventus International aims to kick off their live events in Europe with the 3rd Annual Edition of SGS (Scandinavian Gaming Show), followed by GAME Greece in October and both iGG (iGaming Germany) and AGU (All-In Gaming Ukraine Summit) in November.
The gaming industry in Europe has been bustling with developments in the last couple of months. As was the case for most of the globe, online gaming skyrocketed amid widespread focus on responsible gambling. The EGBA's new Code of Conduct for responsible gambling advertising was favourably met while mixed sentiment towards calls for more stringent regulations in certain parts of the continent prevailed.
Against the backdrop of these advancements, the Eventus International team brings you a lineup of world-class industry events.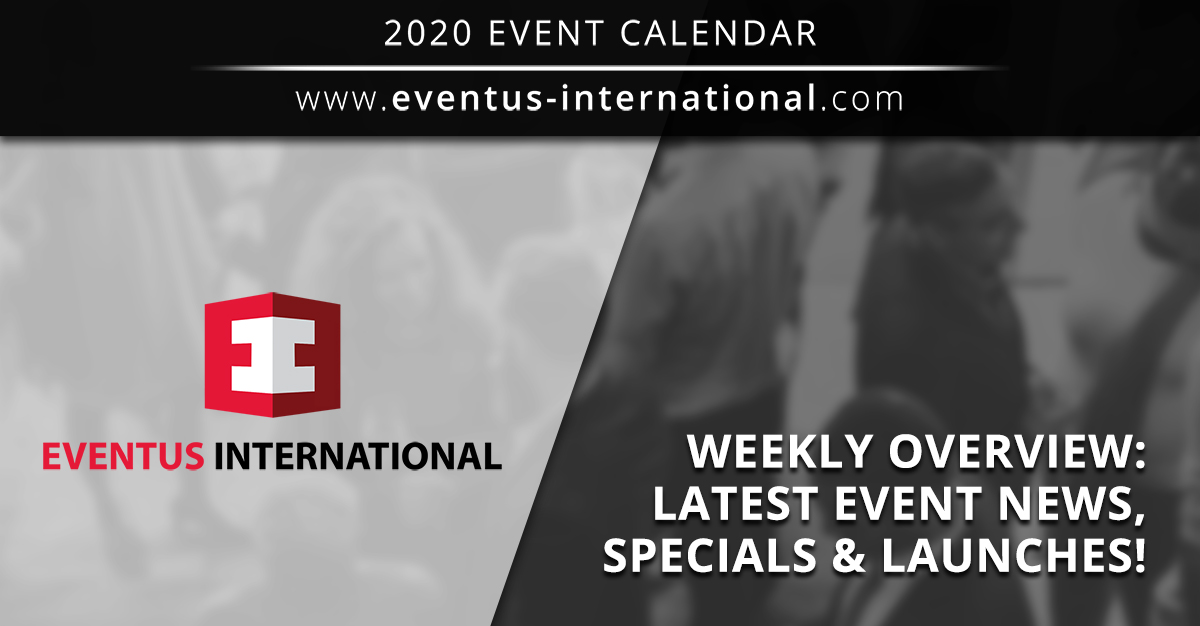 SGS (Scandinavian Gaming Show) 2020
The 3rd Annual Edition of the Scandinavian Gaming Show is scheduled for 28 to 29 September 2020 at the Hilton Stockholm Slussen, Stockholm, Sweden. Industry professionals and operators have criticised the strict limitations placed on online betting by the Swedish government and several developments have taken place on the Scandinavian gaming front in the last few months, making SGS 2020 all the more important to attend.
Delegates will benefit from meeting and networking with all the key stakeholders in the Scandinavian gaming industry and beyond.
Join us for this much-anticipated event. Register here https://www.eventus-international.com/sgs-register-gateway
GAME Greece 2020
GAME Greece 2020 is a two-day summit scheduled to take place from 1 to 2 October 2020 at the Electra Hotel in Athens, Greece. The event will offer an expansive exhibition floor setting the ideal stage for industry service providers to enter the Greek market. Do not forgo this supreme opportunity to launch or showcase your products or services to a targeted international C-level audience. Spaces are in high demand, so contact us today to find out more: This email address is being protected from spambots. You need JavaScript enabled to view it.
To register as a delegate, visit https://www.eventus-international.com/game
iGG (iGaming Germany) 2020
iGG 2020 will take place from 5 to 6 November 2020 at NH Collection Berlin Mitte Friedrichstrasse in Berlin, Germany and will join together global gaming experts and professionals to share their insights and explore growth potential in this promising sector.
To register, click here https://www.eventus-international.com/igg
AGU (All-in Gaming Ukraine Summit) 2020
Eventus International is expanding its footprint to Eastern Europe this year through the inaugural All-in Gaming Ukraine Summit 2020 taking place from 12 to 13 November 2020 at the Radisson Blu Kyiv in Kyiv, Ukraine.
Discover investment opportunities in this emerging market and gain an outlook on what a regulated Ukrainian gaming industry entails.
To register, click here https://www.eventus-international.com/all-in-gaming
Date change for BiG Africa Conference (BAC) 2020
Due to the persisting COVID-19 risk and prevailing safety concerns, we have taken the decision to move BAC (BiG Africa Conference) to 29 and 30 October 2020.
South Africa's top industry leaders will gather at BAC 2020 to discuss the "new normal" in the SA gambling landscape and reassess remote gaming legislation in the country. Limited seats are available.
To secure your seat, book now! Register here https://www.eventus-international.com/big-africa-registration
The conference will also be live-streamed and can be attended from anywhere in the world at only 150 USD per online pass. To view the BAC 2020 agenda, visit https://www.bigafricasummit.com/agenda
Please note that Eventus International's live events will be conducted under stringent prescribed safety regulations and protocols to ensure the wellbeing and safety of all attendees.
EI Industry News launches in two weeks time!
The first edition of Eventus International's brand new online publication will be released in two weeks' time!
A few of the articles in the first edition include:
Return of sports in the US by Bill Pascrell, III, President, A GAME ABOVE
What does the "new normal" for Africa's gaming industry look like post-COVID-19? An opportunity for innovation and improvement by Babatunde Ibidapo-Obe, Partner, Akin Ibidapo-Obe & Co
Why harmonisation in online gambling regulation is necessary in Europe by Vasiliki Panousi, Manager -EU Affairs, EGBA
Online Gaming: Where Do I Even Begin? by Devon Dalbock, General Manager, GLI Africa
Payment blocking is not stopping online gambling but entailing unintended harmful consumer effects by Rolf Sims, Public Affairs Manager, Kindred
SPAIN: All eyes on the imminent (or not) gaming advertisement regulation by Patricia Lalande, Partner, LOYRA Abogados
We would like to thank all our contributors for adding immense value and helping us to make this publication a reality.
EI Industry News is set to enjoy a vast readership of industry professionals, making it the ideal channel for advertising your brand or product.
For a more comprehensive summary of the advertising opportunities, visit
To find out more, contact us today: This email address is being protected from spambots. You need JavaScript enabled to view it.
Not to be missed online advertising opportunities
Eventus International has the ideal online advertising and/or sponsorship packages available to suit your business needs. If you act fast, you can still benefit from our "Christmas in July" Special and get a 10% discount on any online package. Don't delay and miss out - offer ends 31 July 2020!
Choose from the following options to distinguish your brand:
- Webinar Platinum Sponsorship Package
- Webinar Sponsorship Package
- Logo placement only in the chosen webinar
- Online banner placement
- Online logo and company profile placement
- Logo placement on weekly mailers to our database
- Product video space
- Sponsored social media posts
- Sponsored pop-up on the chosen website
- Sponsored HTML Mailer
For comprehensive information on our offerings, visit https://www.youtube.com/watch?v=R-QJaRAlePs
To find out more, contact us today: This email address is being protected from spambots. You need JavaScript enabled to view it.
Contact us now to find out how your company can benefit from our summits:
Contact Eventus International's Marketing Director, Lou-Mari Burnett, to grow your business in Asia, Europe, Africa and beyond with our sponsorship and exhibition packages for the listed events.
Lou-Mari Burnett
Marketing Director
Eventus International
Email: This email address is being protected from spambots. You need JavaScript enabled to view it.
Phone: +27829075850
Eventus International is a dynamic, summit and exhibition company that connects leaders with leaders and turns opportunity into possibility. We utilise our vast networks and expertise to create forward thinking summits that align best practice and industry development with empowering content and outstanding networking opportunities.
Our summits and exhibitions have a longstanding reputation for gathering primary stakeholders in the industry to discuss the future of the gaming sector. We operate in profitable vertical industries with significant international growth potential while promoting the growth of emerging markets.
Every summit we produce is designed to provide practical solutions to strategic, tactical and technical challenges and shed light on new opportunities in the sector.
We are renowned for producing exclusive, niche events, hosting C-Level executive audiences and gathering decision makers under the same roof while ensuring gender diversity and inclusion throughout.
The high standards that we set for ourselves are responsible for the success of events such as the Sports Betting East Africa+, SPiCE India, Sports Betting West Africa+, Cyprus Gaming Show, Scandinavian Gaming Show, AI In Gaming, International Lottery Play Summit, iGaming Germany (iGG), All-in Gaming Ukraine Summit, GAME Greece, Gaming Expo Francophone Africa, ACE (Affiliate Conference & Expo) 2020, Play Social – Social Gaming China and the All American Sports Betting Summit.