Weekly Overview: Save The Dates This November!
By: Staff Writer at Eventus International
Eventus International is excited to bring back live gaming events this November.
November 2020 events include the 3rd Annual Scandinavian Gaming Show, the 4th Annual Cyprus Gaming Show, the inaugural GAME Greece and the 6th Annual Sports Betting West Africa+!
Save the following dates and take advantage of the "Not to be missed November Special" on all November gaming events.Receive up to 20% discount when booking at 2 or more of the November events!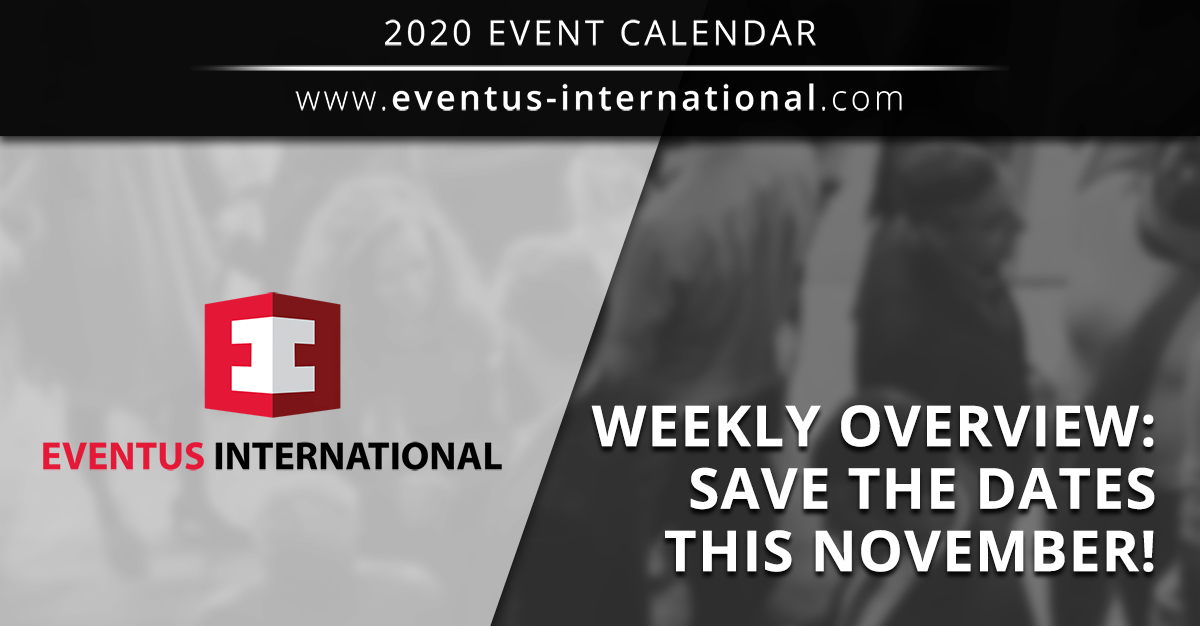 Upcoming November 2020 events include:
Scandinavian Gaming Show, 5 - 6 November 2020, Stockholm, Sweden
SGS,scheduled to take place from 5 - 6 November 2020 in Stockholm, Sweden,will once again bring attendeestogetherfrom allgamingsectors,disciplines and regions throughoutScandinaviaand beyond, featuringindustry-specific conference streamsand networking opportunities with industry peers.
To register, visit: https://www.eventus-international.com/sgs
Cyprus Gaming Show, 9 - 10 November 2020, Nicosia, Cyprus
Cyprus Gaming Show has been running successfully since 2017 with the fourth installmentin 2020expected to be even bigger and greater than previous years. The CGS is a gaming conference and exhibition uniting the online and offline industry, focused on Cyprus as an iGaming hub in the Mediterranean. The 4th Annual Cyprus Gaming Show, taking place from 9 - 10 November 2020, will bring together key operators and industry stakeholders from across the globe and provide valuable insights through keynote presentations and panels as well as engaging networking opportunities.
Download the full event agenda now register your interest: https://www.cyprusgamingshow.com/
GAME Greece, 12 - 13 November 2020, Athens, Greece
GAME (Gaming Affiliate Marketing Expo) Greece will be taking place from 12 - 13 November 2020 at Electra Palace Athens in Athens, Greece.The 2 day summit and expo will gather regulators, ministers, investors, operators, and providers to learn about the exciting gaming market opportunities in Greece and the surrounding nations for both land-based and online gaming.
To register, visit: https://www.eventus-international.com/game
Sports Betting West Africa+, 26 - 27 November 2020, Lagos, Nigeria
Sports Betting West Africa+ 2019 was an all-round success, well-attended and supported by the gaming sector's most respected stakeholders from Africa and the world over. In true Eventus International fashion, the summit succeeded in bringing together the gaming industry of West Africa.
​
Scheduled to take place at Eko Hotel Suites in Lagos, Nigeria, from 26 - 27 November 2020, the 6th Annual Sports Betting West Africa+ summit seeks to build on the growing popularity of the previous editions by offering even more hot topics, inspiring gaming sector icons, software and service providers, and practical knowledge for growth in the West African market.
Download the full event agenda now register your interest: https://www.sportsbettingevents.com/sbwa
With all the necessary safety and social distancing measures in place at each of the events, we will continue to offer platforms for industry professionals to meet, engage and network responsibly within the international gaming industry!
To view the full lineup of 2020 2021 events, please visit: https://www.eventus-international.com/gaming-events
NOT TO BE MISSED NOVEMBER SPECIALS:
- Receive a 10% discount for any Sponsorship Exhibitor package at ONE selected November event
- Receive a 20% discount on the lump sum for any Sponsorship Exhibitor packages at any TWO OR MORE selected November events
These amazing offers are valid until 16 Oct 2020. So benefit from these savings and book your Sponsorship or Exhibitor package now!
Stay up to date with Eventus International's event and publication offerings, subscribe to our YouTube channel here: https://www.youtube.com/channel/UCl6FRtGlwcLFtYkQxh7uZmQ
Contact us now to find out how your company can benefit from our summits:
Contact Eventus International's Marketing Director, Lou-Mari Burnett, to grow your business in Asia, Europe, Africa and beyond with our sponsorship and exhibition packages for the listed events.
Lou-Mari Burnett
Marketing Director
Eventus International
Email: This email address is being protected from spambots. You need JavaScript enabled to view it.
Phone: +27829075850
Eventus International is a dynamic, summit and exhibition company that connects leaders with leaders and turns opportunity into possibility. We utilise our vast networks and expertise to create forward thinking summits that align best practice and industry development with empowering content and outstanding networking opportunities.
Our summits and exhibitions have a longstanding reputation for gathering primary stakeholders in the industry to discuss the future of the gaming sector. We operate in profitable vertical industries with significant international growth potential while promoting the growth of emerging markets.
Every summit we produce is designed to provide practical solutions to strategic, tactical and technical challenges and shed light on new opportunities in the sector.
We are renowned for producing exclusive, niche events, hosting C-Level executive audiences and gathering decision makers under the same roof while ensuring gender diversity and inclusion throughout.
The high standards that we set for ourselves are responsible for the success of events such as the Sports Betting East Africa+, SPiCE India, Sports Betting West Africa+, Cyprus Gaming Show, Scandinavian Gaming Show, AI In Gaming, International Lottery Play Summit, iGaming Germany (iGG), All-in Gaming Ukraine Summit, GAME Greece, Gaming Expo Francophone Africa, ACE (Affiliate Conference Expo) 2020, Play Social – Social Gaming China and the All American Sports Betting Summit.