Weekly Overview: East Meets West – SBEA SBWA 2020 Merger
By: Staff Writer at Eventus International
The year is almost at its end, and what a challenging year it has been! For many, this has been the most volatile year in history.
The 6th Annual Sports Betting West Africa (SBWA) Summit, which was due to take place in Lagos this November has been moved to take place on 7-9 December 2020 at Kampala Serena Hotel in Kampala, Uganda, alongside the 6th Annual Sports Betting East Africa (SBEA) Summit.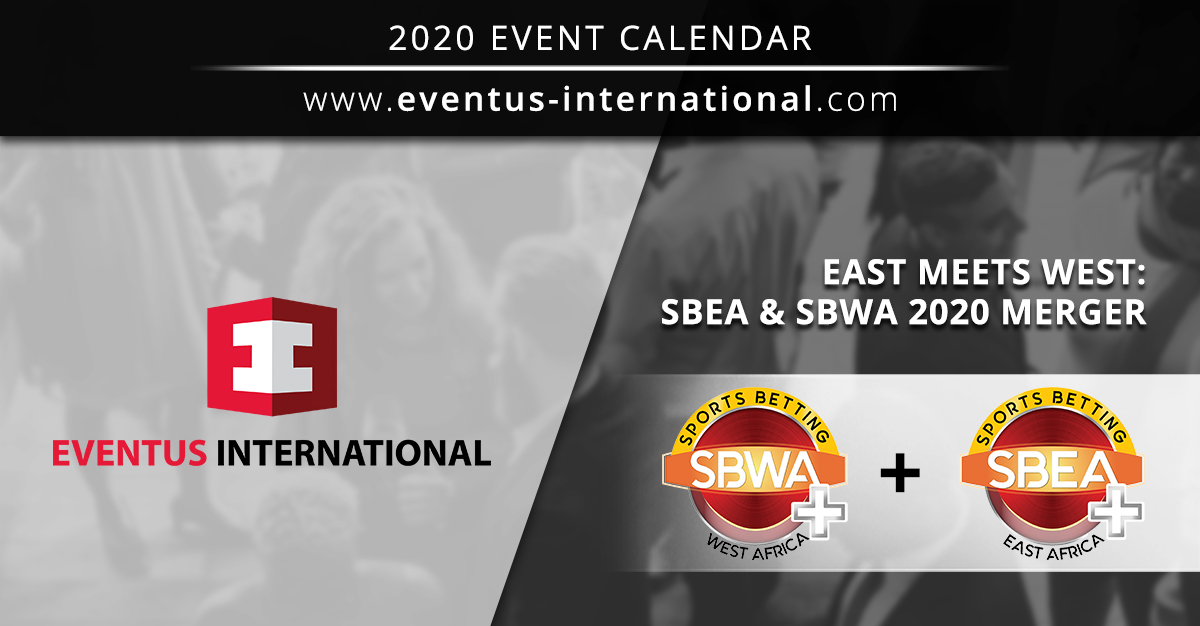 The decision to merge both events, SBEA and SBWA came after further discussion with our advisers and speakers in both Nigeria and Uganda. Given the circumstances, the mandatory 7 days self-isolation requirement to international travelers into Nigeria as mandated by the Nigeria Centre for Disease Control, have made it impossible for most of our international participants to be attending the event in Lagos.
" The growth of the African gaming industry has been particularly exciting. With a combined SBWA and SBEA 2020 to be hosted in Kampala this year, it is going to be bigger and better than the previous editions and hence is a must-attend for anyone connected with the gaming industry." commented Alessandro Pizzolotto, CEO at Stm Gaming Ltd.
As organizers, we are in constant discussion with key industry stakeholders to adjust how we deliver an event with the highest possible output and greatest value. Our ultimate goal is to create a platform for gaming industry professionals to meet and share ideas for business growth, and this should be the majority of the entire travel experience for each.
Tayo Atoloye, Country Manager, Nigeria at Panserve, added: "The African gaming industry has grown tremendously in the last couple of years and Eventus International has contributed immensely to this growth by creating an umbrella under which regional discussions are being held to chart a pathway for proper understanding of the different territories in Africa, bringing together all the relevant stakeholders – regulators, operators, providers, and even punters, for the continued progress of the continent. The Sports Betting Regional Events has become a major schedule on the African gaming calendar. Looking forward to the next one in Kampala."
Since the 1st of October 2020, Entebbe International Airport has reopened to commercial travel, with all passengers required to present a negative COVID-19 test result from within 72 hours before boarding the aircraft. Those without a valid test result will be denied entry. Land borders have also reopened. There are currently no quarantine requirements in place in Uganda for new arrivals, making it much easier for internationals and surrounding countries to travel to Kampala for business purposes.
"SBWA and SBEA have in the past offered unraveled platform for iGaming operators in Africa to discuss challenges and profile innovative and lasting solution to the gaming industry. I am looking forward to this year's merger and looking forward to explosive insight on how iGaming business should respond post COVID-19", said Solomon Godwin, Pragmatic Play Africa Continent Manager.
"The two Sports Betting events, SBWA and SBEA, have in the past offered much value to suppliers, operators, and regulators alike" said Devon Dalbock, GLI Africa's General Manager. "I am looking forward to this year's combined conference, and I have no doubt that all delegates will benefit from the interesting discussion topics and knowledgeable speakers."
The merge of Sports Betting East Africa and Sports Betting West Africa, will create a 3-day event offering more networking opportunities for all participants and at the same time offering more time to discuss pertinent topics on bothEast and West gaming ecosystems. We look forward to welcoming back our loyal and new participants to our first-ever Sports Betting East Africa and Sports Betting West Africa merger!
Topics of discussion will include:
What does the "new normal" for Africa's sports betting look like post COVID-19?
Discussing how operators and regulators can work together while promoting responsible gaming
Effective strategies that work best when entering Africa's gaming market
Developing resilient long-term plans to sustain and stay on top of your game
Strengthening frameworks through effective collaboration to maximize profits
Unlocking the growth potential of Africa's mobile and social gaming
Analyzing how mobile money revolutionized the gaming industry
Identifying the right products to offer in Africa
Meet industry professional in both the East African market and West African market:
Abiodun Babalola, Snr. Manager – Business Development, 1XBET Nigeria
Aggrey Say, Country Marketing Manager, OdiBets
Austin Udu, Director of Sales - Africa, Global Bet
Devon Dalbock, General Manager, GLI Africa
Felix Mukaxe, Gambling Inspector, Mozambique Gambling Board
Gregg Rathbone, Head of Sportsbook, LionsBet
James Mbalwe, DG, Gaming Board of Tanzania
James Mpiirwe, Manager, Responsible Gaming, National Gaming Board, Uganda
Jean Claude Mushimire, Ministry of Trade Industry and East African Community Affairs, Rwanda
Jimmy Kenneth, Chairman, Tanzania Sports Betting Association
Johnson Foye, Executive Director, Western Sportsbet Nigeria Ltd (Westernbet)
John Kamau, Co -Founder, Betconsult
Kaleb Stanislav, Head of Gaming Operations, Betika!
Solomon Godwin, Africa Continent Manager, Pragmatic Play
Tayo Atoloye, Country Manager, Nigeria, Panserve
Yahaya Maikori, Senior Partner, LawAllianz
Extra networking activities will include:
- East Meets West Ice-breaker Cocktails – 7 Dec 2020, 18:00 – 20:00
- SBEA SBWA Poker Tournament (USD150 Buy-in Per Person) – 8 Dec 2020, 19:00 – 00:00
- SBEA SBWA VIP Dinner (USD100 Per Person) – 9 Dec 2020, 19:00 – 22:00
With all the necessary safety and social distancing measures in place at the conference, exhibition, and networking events, we will continue to offer platforms for industry professionals to meet, engage and network responsibly within the international gaming industry!
Stay up to date with Eventus International's event and publication offerings subscribe to our YouTube channel here: https://www.youtube.com/channel/UCl6FRtGlwcLFtYkQxh7uZmQ
Contact us now to find out how your company can benefit from our summits:
Contact Eventus International's Marketing Director, Lou-Mari Burnett, to grow your business in Asia, Europe, Africa and beyond with our sponsorship and exhibition packages for the listed events.
Lou-Mari Burnett
Marketing Director
Eventus International
Email: This email address is being protected from spambots. You need JavaScript enabled to view it.
Phone: +27829075850
Eventus International is a dynamic, summit and exhibition company that connects leaders with leaders and turns opportunity into possibility. We utilize our vast networks and expertise to create forward-thinking summits that align best practice and industry development with empowering content and outstanding networking opportunities.
Our summits and exhibitions have a longstanding reputation for gathering primary stakeholders in the industry to discuss the future of the gaming sector. We operate in a profitable vertical industries with significant international growth potential while promoting the growth of emerging markets.
Every summit we produce is designed to provide practical solutions to strategic, tactical, and technical challenges and shed light on new opportunities in the sector.
We are renowned for producing exclusive, niche events, hosting C-Level executive audiences and gathering decision-makers under the same roof while ensuring gender diversity and inclusion throughout.
The high standards that we set for ourselves are responsible for the success of events such as the Sports Betting East Africa+, SPiCE India, Sports Betting West Africa+, Cyprus Gaming Show, Scandinavian Gaming Show, AI In Gaming, International Lottery Play Summit, iGaming Germany (iGG), All-in Gaming Ukraine Summit, GAME Greece, Gaming Expo Francophone Africa, ACE (Affiliate Conference Expo) 2020, Play Social – Social Gaming China and the All American Sports Betting Summit.