BiG Africa Summit 2022 – Free Admission to Selected Southern African Countries
By: Staff Writer at Eventus International
22 Dec, Cape Town
The Eventus International team announced the one month countdown to the8th Annual BiG (Betting iGaming) Africa Summit this week and preparations are well underway.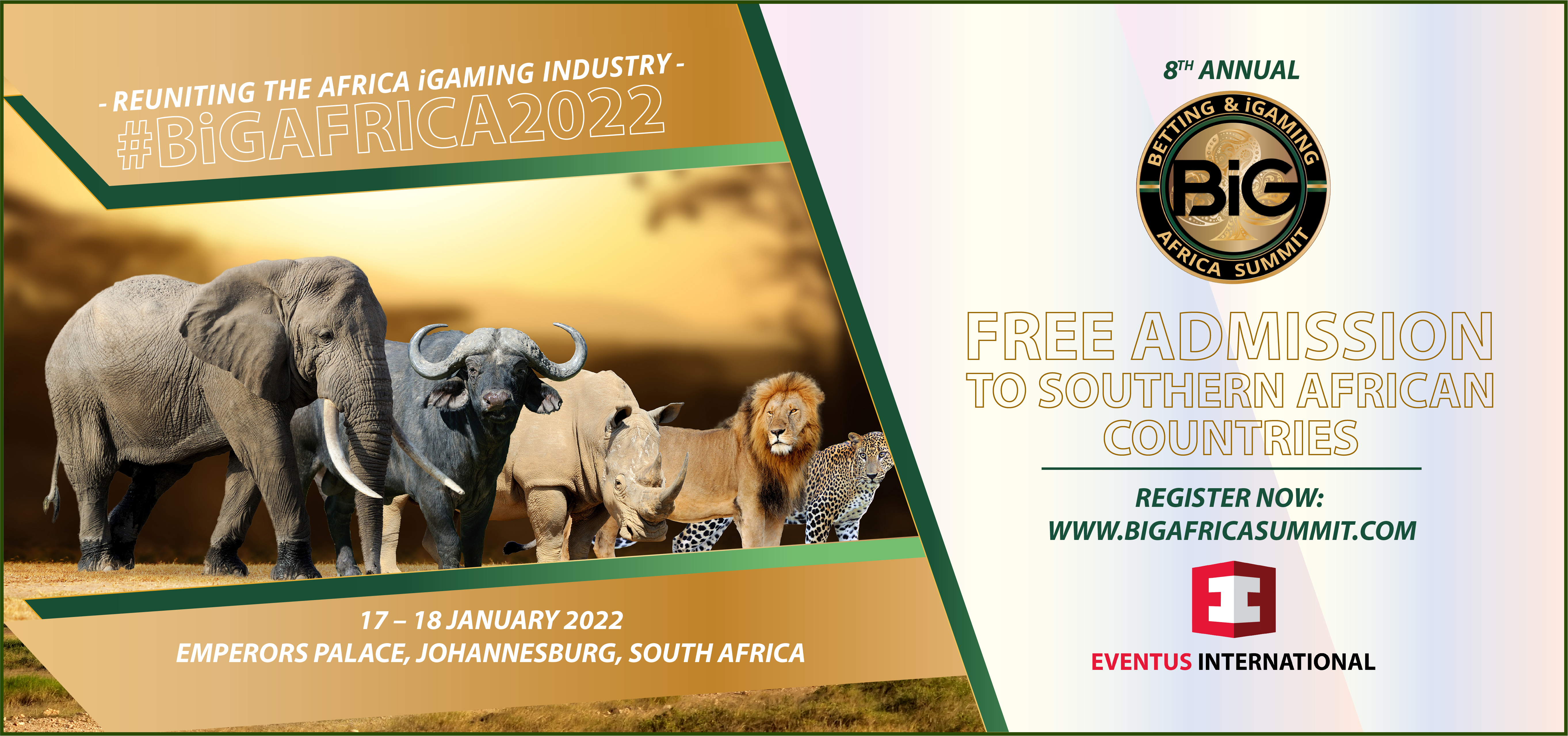 As registrations are coming in from across the globe, Eventus International is pleased to make the access to the exhibition floor free to selected Southern African countries. Attendees from Botswana, Eswatini, Lesotho, Namibia, South Africa, Zambia, and Zimbabwe may register for BiG Africa Summit 2022 and attend the exhibition completely complimentary.
"In our opinion, the selected countries were treated unfairly by the world recently, banning the entry of their citizens in multiple countries. Although we understand that the situation for travel remains volatile, we would like to be extra welcoming to the mentioned Southern African countries, so they can also join in and network with global gaming leaders", said Managing Director at Eventus International, Yudi Soetjiptadi.
After the long absence of gaming events in Africa, the time has come to reconnect and nurture new relationships within the Africa gaming market. Eventus International is proud to host the next edition of the BiG Africa Summit from 17 -18 January 2022 at Emperors Palace in Johannesburg, South Africa. The 8th edition of the well-established event, seeks to involve all African gaming stakeholders in providing an impressive exhibition floor, networking opportunities as well as the exchange of knowledge during conferences sessions.
Join Eventus International as they reunite the Africa iGaming industry once more in South Africa! The event will strictly adhere to the prescribed safety regulations and protocols to ensure the well-being of all attendees. To book your pass to attend the event, visit: https://www.bigafricasummit.com/
Stay up to date with Eventus International's event and publication offerings, subscribe to our YouTube channel here: https://www.youtube.com/channel/UCl6FRtGlwcLFtYkQxh7uZmQ
Contact us now to find out how your company can benefit from our summits:
Contact Eventus International's Marketing Director, Lou-Mari Burnett, to grow your business in Asia, Europe, Africa and beyond with our sponsorship and exhibition packages for the listed events.
Lou-Mari Burnett
Marketing Director
Eventus International
Email: This email address is being protected from spambots. You need JavaScript enabled to view it.
Phone: +27829075850
Eventus International is a dynamic, summit and exhibition company that connects leaders with leaders and turns opportunity into possibility. We utilize our vast networks and expertise to create forward-thinking summits that align best practice and industry development with empowering content and outstanding networking opportunities.
Our summits and exhibitions have a longstanding reputation for gathering primary stakeholders in the industry to discuss the future of the gaming sector. We operate in profitable vertical industries with significant international growth potential while promoting the growth of emerging markets.
Every summit we produce is designed to provide practical solutions to strategic, tactical, and technical challenges and shed light on new opportunities in the sector.
We are renowned for producing exclusive, niche events, hosting C-Level executive audiences and gathering decision-makers under the same roof while ensuring gender diversity and inclusion throughout.
The high standards that we set for ourselves are responsible for the success of events such as the SPiCE India, Analytics & AI In Gaming, GAME (Gaming Affiliate Marketing Expo), Sports Betting East Africa+, iGG (iGaming Germany), RiSE (Russia iGaming Summit Expo), All-In Gaming Ukraine Summit, SPiCE Sri Lanka, Sports Betting West Africa+, Fantasy eSports Summit, Scandinavian Gaming Show, All American Sports Betting Summit, Cyprus Gaming Show, iGaming Central America, International Lottery Play Summit, International eSports Business Forum, and Chile iGaming.