Slotegrator is going to Georgia Gaming Congress
Gambling is one of Georgia's trump cards. Its fascinating nature and mild marine climate make this country extremely popular with tourists from all over the world. Being surrounded by the countries where gambling is officially banned, Georgia, in fact, benefits from its geographical position. Moreover, its relatively loyal legal system makes this country very appealing for the leading investors and participants of the gambling market. That's why the majority of significant gambling events are held predominantly on the territory of Georgia.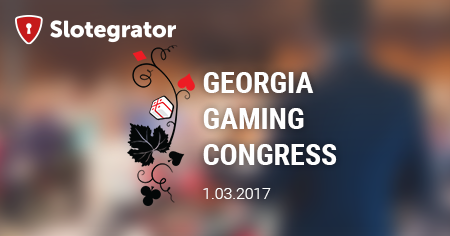 Tbilisi will host the third annual "Georgia Gaming Congress", dedicated to the development and promotion of the gambling business on March 1, 2017. Among the main topics of discussion, you may find development of traditional land-based and online casinos, promotion of betting business, fantasy sports, and virtual reality technologies. Apart from the said above, speakers will dwell upon the burning issues of introduction, implementation, and development of blockchain technologies, as well as capital investment projects.
The said event will be attended by the official establishment of the country responsible for promotion and regulation of the gambling business in Georgiatogether withsome of the leading software developers, specialized equipment manufacturers, operators, casino owners, betting providers and the rest of the experts of this very industry.
This kind of congress is considered to be Georgia's biggest platform, opening the possibilities of free experience exchange, as well as serves a base for demonstration of up-to-date products and progressive ideas applicable to gambling. The demo zone will exhibit the latest software and hardware solutions designed specifically for different sectors of the gambling industry. The leading managers of the company Slotegrator, known as one of the major aggregators and online casino software distributors, are going to take part in this congress too. In terms of this event, Slotegrator is looking forward to presenting its latest solution – online casino bots for the Telegram mobile application.
Currently, messengers are becoming an essential part of our daily life and, without a doubt,they form the future of our communication. So, how can you benefit from this means of communication in order to increase online casino profits? How can youintegrate such solutions into your already existing platform? Will it become effective? Vadim Potapenko is going to answer all of these important questions while making his presentation at the conference. At the same time, Roman Kuts, one of the leading sales managers will consult audiences regarding matters of integration of this brand-new solution, as well as reveal the secrets of effective collaboration with Slotegrator.
You can find out more about the new solution, get more information and discuss the details of development and integration of chat bots by visiting the aggregator's demo zone. Make an appointment and Slotegrator's managers will be more than pleased to answer all of your questions!
Find out details on the
company website.
About Slotegrator:
Slotegrator is an aggregator comprising world's best gambling solutions from the most renowned gaming providers through a unique communication protocol. The company has already proved itself to be a leading distributor of quality software and platforms for various online casinos providing its clients with progressive solutions from more than 16 providers. Slotegrator's business history dates back to 2012 and since its successful establishment the company has showed itself as a reliable partner and proficient market player with high levels of expertise when it comes to the questions of running online gambling businesses. Slotegrator has also launched its own separate educational project called Slotegrator Academy oriented on both enthusiasts and professionals of the gambling market. The company regularly hosts webinars and publishes all kinds of informative materials.