Gaming Press Release: Webinar - Attract More Gamblers To Your Online Casino: Hosted By Slotegrator Academy
January 27, 2017 the leading sales manager from the company Slotegrator Nikolay Tugolukov, will host a webinar explaining "How to attract more gamblers to you online casino". The said workshop is aimed at aspiring operators and experienced casino owners and will be conducted at 3 p.m. (Moscow time). The data is provided by the official press release of the aggregator.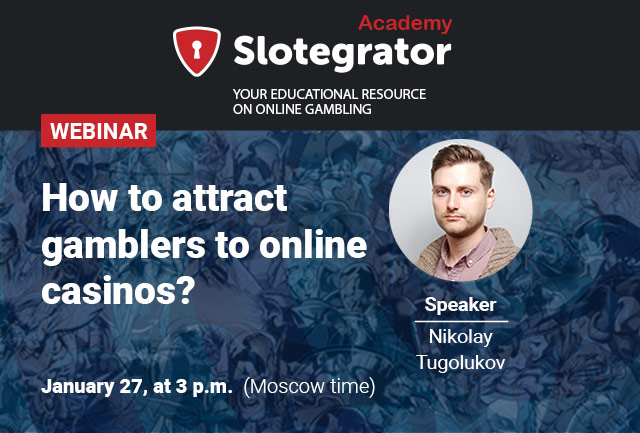 The key topics of the webinar:
1. The most effective marketing tools used in successful audience capturing.
2. Influence of the gaming content on casino's popularity.
3. How to make your project stand out compared to others.
4. Effective methods of holding your audiences down plus various tips on gamblers' encouragement programs.
Nikolay commented upon one of the points discussed in the webinar's case, more specifically, shared about the methods of holding gamblers down, as well as mentioned about gamblers' encouragement.
"One of the main targets of any online casino is the attraction of wide gambling audiences, thus the majority of online casino operators are concerned about this issue. However, another important matter is the ability to hold your gamblers down in your project via bonuses, free spins, gaming points, prompt money withdrawal. Everything mentioned above plays a crucial role in the profitability of your project¨.
Be the first one to find out how to attract new gamblers to your online casino project and make it more popular among experienced gamblers by attending a webinar hosted by Slotegrator Academy!
Register for the webinar