Slotegrator Announces A Competition For Two Free Tickets To Betting Trends Forum In Moscow
The company Slotegrator, a leading aggregator and distributor of software, gaming, content, and platforms for online casinos, announces a competition for two free tickets to one of the major specialized events for betting providers - Betting Trends Forum.
On March 31, 2017, Moscow hosts a conference dedicated to the upcoming World Football Championship 2018 held in Russia.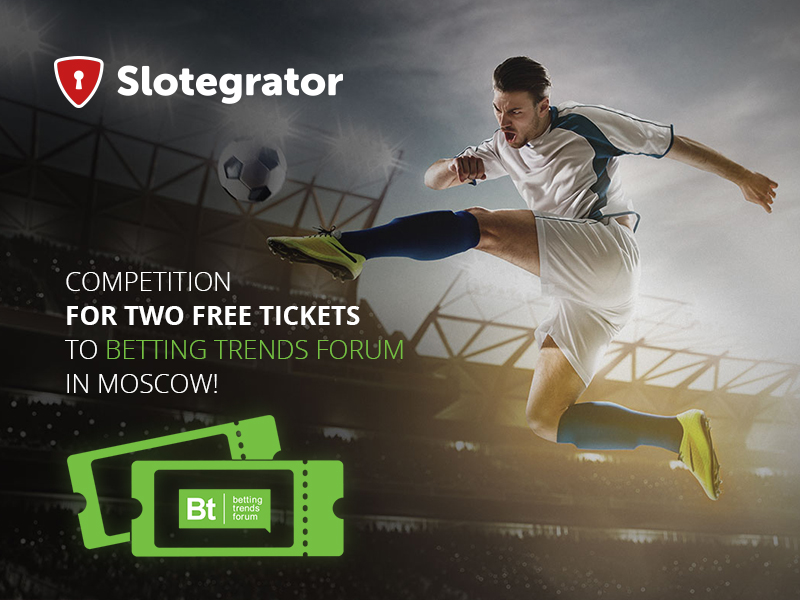 This specialized event is devoted to multiple sectors of the betting business. The main mission of Betting Trends Forum 2017 is to bring your business to the brand new level of development, preparing it for the main event of the football season.
In terms of the said forum, Slotegrator's team will present new project cases, as well as some of the innovative solutions for the betting market.
To participate in the prize draw, please, fill in our registration form on the ticket draw page. The winner will be announced on March 30th.
Follow Slotegrator's news and keep up with the latest events of the gambling world!
About the company Slotegrator:
Slotegrator is an aggregator of world's best gaming providers through a single unified protocol. The company is a leading distributor of online casino software and platforms, providing its clients with up-to-date online solutions from more than 16 providers.
Slotegrator was established back in 2012 and proved itself as a reliable partner and professional consultant specializing in online gambling. The company has recently presented a couple of its own developments and solutions. Slotegrator Academy is a new educational course powered by Slotegrator aimed at both enthusiasts and professional gambling market leaders. The company regularly conducts webinars and posts various thematic informative materials.