Slotegrator Is Hosting A Webinar On Fraud In Online Gambling
July 19 at 2 pm Moscow time (12 pm London), the Slotegrator Academy welcomes everybody so wishing to join the webinar conducting by the company's lead manager, Vadim Potapenko, on the issue "Fraud in Online Gambling". The speaker will talk about fraud verities at virtual clubs and ways to deal with it.
Vadim will address his speech to the following aspects:
Types of fraud in an online casino (hacking, using system's vulnerabilities, payment systems fraud, staff collusion).
Who are bonus hunters?
What is a multi-accounting?
Ways to combat a cybercrime.
What should you do if you are a victim of fraud?
Vadim Potapenko:
'In addition to the main costs for maintaining a virtual institution, it is necessary to combat and constantly minimize cases of fraud. During the webinar, I'll tell you how to secure your business and what you should pay attention to when operating an online casino. In addition, I am going to raise issues on the main fraud types – hacking, multi-accounting, credit card fraud. I will also be happy to answer your questions within the meeting.'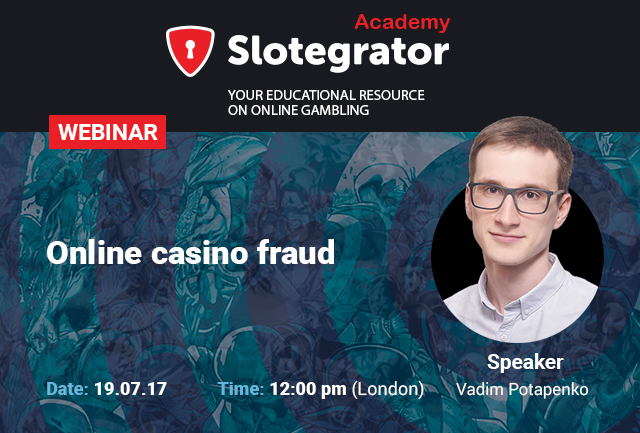 If you are interested in the ways to secure your online casino from fraudsters, you are welcome to join a master class from the Slotegrator Academy! Register on our website.
About the Slotegrator company:
Slotegrator is an aggregator of the world's best gaming providers through a single protocol. The company is considered as a leading distributor of online casino software and platforms, and provide its clients with advanced online solutions from more than 16 vendors. Slotegrator started its operation in 2012 and today, it has established itself as a loyal partner and a professional adviser on online gambling issues. Recently, the company has also presented its own developments.
As a part of Slotegrator, an educational department, Slotegrator Academy, was created for both amateurs and professionals of the gambling market. The company regularly conducts webinars, as well as publishes various thematic information materials.