How Accurate Are The Convert PDF To Microsoft Word Apps: PDF To Microsoft Word Converter Guide
Web content writers, researchers, students, and journalists look around to find the best app to help them with PDF to Microsoft Word conversion. Just Google' convert PDF to Word' and you will get over 200 million results! Each one of them claims to provide the best conversion at lightning-fast speeds.
Are All Convert PDF to Words Applications Efficient.
In my personal experience as a journalist, part-time writer and dabbler, I have found most of these tall claims to be false. Yes, just because a site is sitting on top of the pile, don't think it's the one you should trust blindly. Believe me, I have had my fingers burnt by trusting such sites that advertise they are the best. They are not; it's the SEO team that has got the application website to score a top-ranking and not the application itself.
History of PDF.
Let's just take a look at how PDF to Word conversion has become so popular. Portable Document Format, commonly known as PDF, is a format that was developed by Adobe Systems in the 1990s. It was introduced to permit sharing of documents among users on different systems. However, it had several drawbacks like slow download time, large file size, plus you needed the Adobe Reader to read the PDF document. Adobe added a number of features to make the PDF file secure, so a user except the original author could not change it.
PDF Drawbacks.
It had and still has certain drawbacks like why would a user who has purchased Microsoft Office Suite want to invest in another document editor. This is what started the race for developing apps to convert pdf to word. As frankly, Microsoft Office is the most popular and widely used suite of applications by computer users.
PDF to Word Converter Apps.
With so many websites claiming that their website is the best and most accurate PDF to Word converter, you have to make an effort to find the best converter yourself. If I hazard to suggest that converter X is the best, it might not suit your requirements so that I won't take the risk. If you need to convert PDF files to Word regularly, you need to spend time to decide which one suits your particular requirements.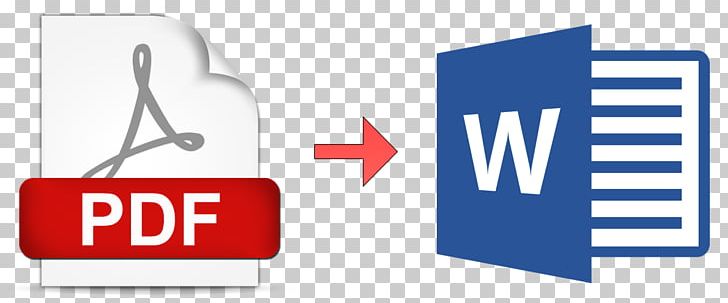 Image Credit https://imgbin.com/png/x2ApXx9L/pdf-microsoft-word-computer-icons-png
Negative Aspects of Converter Apps.
Here are listed some of the major shortcomings of PDF to Word Converter Apps that you should consider.
· Cannot handle large size files.
· Ignores documents formatting.
· Does not convert images.
· Is extremely slow.
· Changes the format completely.
With so many negative aspects, you need to select the correct apps to use for converting PDF file to Word documents.
Solution.
The best way forward is to visit the various sites that offer this conversion application. Select the file to convert and run it through the app. Now, look at the original file and the converted file. If both are exactly the same, run a second test on a PDF file that has images and graphs in it. If the results are accurate and you are satisfied with the results, go ahead and use it.
Ignore the ones that have mucked up the formatting or have done a partial job or convert images into blanks or are plain simply useless.
You might need to conduct this test over several websites. But if you have to convert files from PDF to Word frequently, you would be better off making this effort. Remember, life has no shortcuts.
The Bottom Line.
Converting PDF to Word has become quite a common requirement. Quite a large community prefers to publish documents in PDF on the internet. They do this to protect their work, and rightly so. How would you feel if you have published your original work and you find it has been tampered with and changed and published under your name! Frustrated, angry, and ready to kill the person who has tampered with your hard work would best describe your emotions at that point.
Spend some time and find the converter tool that suits your requirement. You might have to pay to download, install and use it. But if it's frequently updated and works efficiently; that will be a small price to pay to gain peace of mind.