Paid Featured Guest Post Advertising Notices - Links To Paid Articles - Transparency Report
Sometimes RobinsPost receives payment for posting articles. The FTC (Federal Trade Commission), requires publishers to inform visitors of these types of paid posts. RobinsPost has created this transparency report list to document what articles have been paid for by advertisers. This list will link to articles that are paid posts. The Robin Bird needs to pay bills to pay for hosting and web development, as well as worms to keep flying the Internet for news and shopping deals.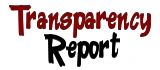 To satisfy FTC rules and our commitment to our readers, this list will be updated when we do receive payment for news article posts. Feel free to visit this page if you are curious to find out if a post has been paid, for advertising purposes.
If you are an advertiser and have special needs, please contact us through the contact menu link above to explore posting options. Looking forward to helping you with your campaigns.