Seven Travel Savvy Airport Tips
Today we are going to talk about the place travelers dread or get frustrated with (most of you would agree) – the airport. Getting passed the airport can be a complicated and tormenting process these days and every airport has its own way, so just showing up extra early and hoping that your flight would not get delayed or worse, canceled, won't solve it. You need to be ready, quick, and most of all, savvy.
Here comes your vacation, you are well prepared with your flight information, your accommodation, and your itinerary. But even being prepared even in those teeny tiny details, stress can still get in the way. From quicker line-up times at the counter, the hopes of never misplacing or damaging your luggage, to keep yourself updated using flightstatus, you'll find that plenty of the tips we give you are superlatively useful, as they are not known to many. So, use our seasoned traveler experience to your gain and start the experience of your life by grasping the airport!
To help you pull it to get through it smoothly, we have compiled 7 travel-savvy airport tips to help you save time with a little dilemma as possible every step along the way.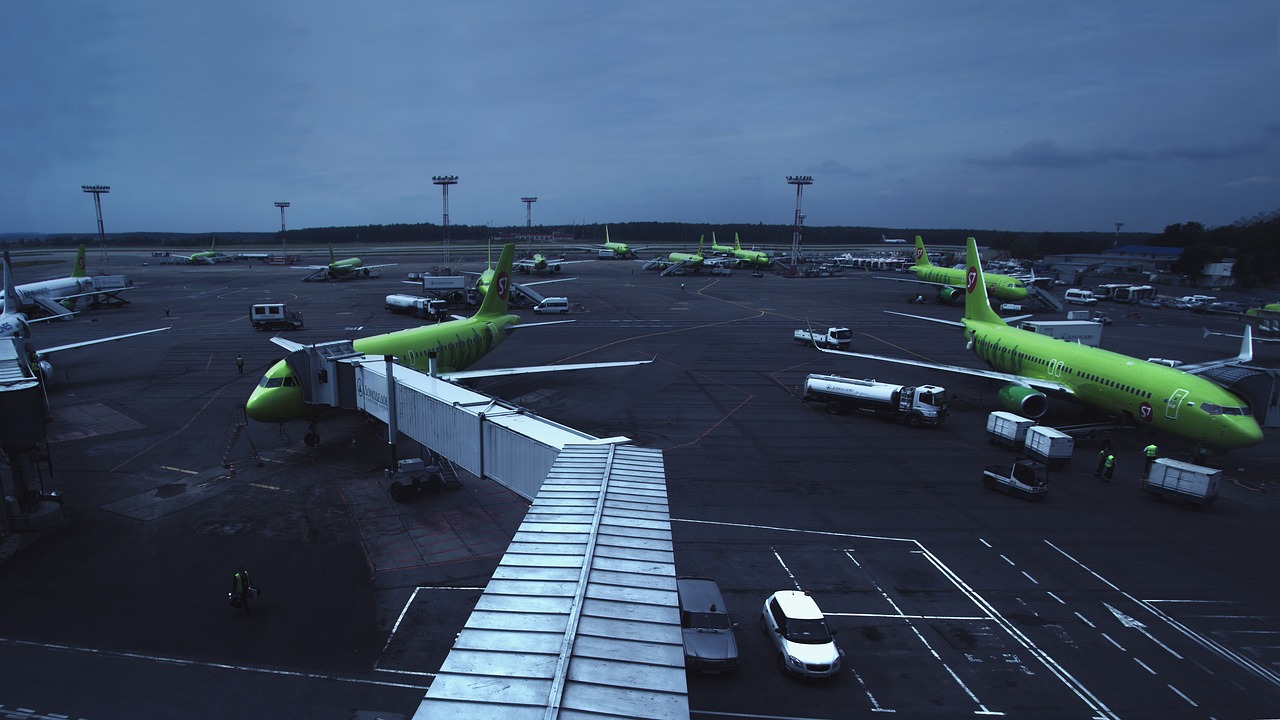 Photo Credit: https://www.needpix.com/photo/download/758564/airport-domodedovo-airline-s7-moscow-russia-plane-green-multi-color
1. Know your destination and layovers in advance
You are probably pretty much acquainted with your own point of origin but having a far destination from your airport might mean layovers, and destination airports can be confusing. So, to avoid getting disoriented and distracted with an unknown airport to you, google it ahead of time and get familiarized with its sight, its structure, its ins, and it outs so that while you are enjoying the airport, you need not worry on getting close to the gates for your connecting flight.
2. Make important docs and airport maps available offline
We are all hooked up in technology. After all, what makes our life much easier than to have everything within the touch of hands, right? Even before coming into the airport, you pretty much did all your bookings and reservations with the help of the internet. Also, the internet made reading this awesome article possible!
So, let us take it up a notch and make sure to have your personal documents, travel documents, and maps available offline. You may not need it now but in case – knock on wood – you get lost in your travels; you will thank me later. Downloading docs in your phone also helps you save space in your luggage because you need not bring those hard copies anymore.
3. Track your aircraft with flightstatus24
To avoid arrive too early or too late at the airport, you must know the whereabouts of your designated aircraft. Flightstatus24 is a global flight tracking app available on iOS and Android and is accessible with the use of smartphones, laptops, tablets, and the like. It provides you with real-time information about thousands of aircraft worldwide. With the help of flight status, you will be able to gauge the time required to come over to the airport with traffic consideration, proximity to your residence and others.
4. Pack a few Ziploc bags in your bag pockets
Ziploc bags can be useful in many ways when traveling. You can store liquids you are going through airport security, to keep your unfinished snacks, or to keep your phone dry if your destination is the beach. So make sure to keep a few Ziplocs in the pocket of your bags cause you would not know when you are going to need them. Replenish then afterwards when needed.
5. Tone down your headphones
I even recommend not to listen to your music. Sometimes, when we are all ready to fly and just waiting at the gates, it is a must to kill the boredom and just listen to our playlist. However, too much volume of music can make you miss an important announcement whether your flight would be delayed, canceled, or moved to another gate.
Besides, it is a petty thing to miss a flight because you are listening to nightclub-loud music plugged in your ears. Some ground crews commonly tell that one of the reasons people miss their flight is listening to their music at full volume. If you really need to, just use your headphone to cancel the mild noise.
6. Don't carry a full bottle through airport security
Instead, bring an empty one! Airport Security is very strict on this. They only allow a maximum of 100ml of liquids through – may vary per airport. Besides the security concern, it is a practice of airports to charge us common travelers with essentials for a rip off price. So, be smarter and just bring an empty bottle on board the plane and have it filled up by the cabin crews to save money!
7. DON'T RUSH WHEN BOARDING
I can't stress it even more. When the boarding call was made, there is no point in rushing to the queue and going crazy like the plane is on a black Friday sale. It is not as if the plane will leave you if you don't rush, we all will leave at the same time and arrive in the same place anyway, silly! To avoid stress in cases like this, let the crowd go first and just board in a civilized, seasoned Traveler-like way after everybody else. Also, it is an indication that you are a well-traveled person.