How To Solve Your iPhone Contacts Missing Problem After iOS Device Updates
Listen To This Article
Your iPhone contacts going missing is not a common problem, but it is also not unusual. A lot of people have already reported experiencing this after they have updated their iOS. They are claiming that their iPhone contacts are missing after they updated their devices to the latest version of iOS.
This could probably be a bug problem with Apple's latest version of the iOS. But we're not here to discuss why this problem is occurring, we're here to discuss how to solve your iPhone contacts missing problem. Yes, there are solutions to this issue and it will be discussed in the next section of this article.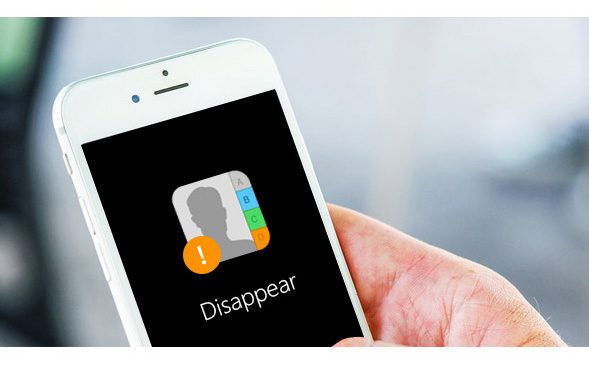 Part 1. Fixing the Problem of your iPhone Contacts Missing on your Device
If you suddenly encounter your contacts missing from your iPhone, whether it is after updating to a newer version of iOS or your device being damaged, don't worry, as there are several solutions you can try to fix the problem. You try solving the problem through the device itself or restoring your contacts from a backup file in your iCloud or iTunes account.
Method 1: Using your iPhone to Fix your Disappearing Contacts Problem
There are several solutions you can try with your device to fix this issue of missing contacts. One of them involves toggling on and off your contacts in iCloud, as this issue could probably just your contacts not showing up properly. Here's how you can do this:
Go to Settings > iCloud
If you are using iOS 11 or newer, go to Settings > Your Username > iCloud
Go to Contacts
If it is Off
Turn it On then tell iCloud to Replace your Contacts
If it is On
Turn it Off then turn it On again
Select Delete from My iPhone is the device asked
If this doesn't work, you can try resetting your Network Connection. Here's how you to do it:
Go to Settings > General
Click on Reset > Reset Network Settings
Enter your passcode when it is requested
Your device will warn you that this action will delete all your network settings
Click Reset Network Settings to continue
After performing this, try checking to see if your contacts have already returned or not. If your contacts are still missing, you can try to restart your iPhone, as this usually addresses a lot of problems. You just need to hold the power button to show the Slide to Turn Off prompt on your screen. Turn Off, wait awhile, then hold the power button again to turn on your device.
Now if any of these solutions still doesn't work, then it is time for you to result to restoring the backup your iPhone. There are two ways that you can do this, either through your iCloud account or through your iTunes account.
Method 2: Fixing your Disappearing Contacts through iCloud
Now if you can't solve your missing contacts problem through several fixes on your iPhone, then it is time to try restoring your contacts through the backup files on your iCloud. Here's how you can do it:
Go to Settings > Apple ID > iCloud
Go to iCloud Backup and check the date of when the iCloud backup was created
If it was just recent, then your missing contacts are likely there and you click Back Up Now
Take note, though, that iCloud will only let you see the date and size of the backup file and not the different data inside the file. So there's really no way for you to know if the backup file you have will contain all of your contacts.
Since you will also be restoring a backup, a lot of your current data and files might get erased, so unless the backup file is very recent, restoring your iPhone through iCloud might not be the best solution.
Method 3: Using iTunes to Fix your Disappearing Contacts
In case you don't have a backup on your iCloud but you have one on iTunes, then you can restore your missing contacts through iTunes account. Here's how you can do it:
Open the iTunes on Mac or PC
Connect the iPhone to the laptop or desktop using a USB cable then input the passcode if needed
Once the iPhone has been successfully installed, an icon for the device will appear that people should click
Press Restore Backup in iTunes
If the iOS in the device is already old, an error will occur and this is what needs to be done
In iTunes tap on Set Up as New instead of Restore
Press back if Restore from Backup has been tapped to return to the Set Up screen
Just follow the remaining steps
People can already skip about the Apple ID, passcode, and Touch ID
After completing the setup, it is time to update the iOS to the latest version
Once done, the device will automatically restart then people would just need to erase the iOS device
Press Settings > General > Reset > Erase All Content and Setting
It will again restart then people can now start restoring their iPhone using the backup from iTunes
If there is no problem with the iOS version, the next step is to choose the size and date of each backup available.
Choose the most appropriate one then press Restore
If the backup is encrypted, it will require a password to continue
Keep the iPhone connected to the laptop or desktop, even after it has already restarted.
Once the device has already synced, they can now be disconnected to the computer
It is important to remember that, like iCloud, iTunes doesn't really allow you to see the individual data you have on the backup file. You can only see the size of the backup and the date it was created. It will be hard for you to tell if the backup will really contain all of your contacts.
It is also important to note that restoring your iTunes backup file will result in all of your current data being erased. So you might want to restore a backup that is very recent to avoid losing too much of your new data or just look for a different solution.
Part 2. How to quickly restore lost contacts from iPhone.
Fortunately, there is another solution to fix the issue of your iPhone contacts missing, and that is with the help of a third party provider in FoneDog Mobile Solution Provider. This company has a software called iOS Data Recovery, where it is designed to help you recover photos, videos, messages, call logs, contacts, and more.
The beauty of this software is that it is 100% secure, meaning you won't have to worry about damaging your data, and it is risk-free to try it out, as FoneDog makes this software available for free for 30 days. This allows you to test it out and see if it is something that you'd need.
Using the iOS Data Recovery
Now, the iOS Data Recovery allows you to recover your data in three ways. You can recover your data from your iPhone directly or through your iTunes account, or through iCloud.
Recovering Deleted Files through your iPhone Directly
Step 1: you would need to do is to install the FoneDog iOS Data Recovery on your computer then connect your iPhone to the computer using a USB cable. Then you open the software and choose Recover from iOS Device and click Start Scan.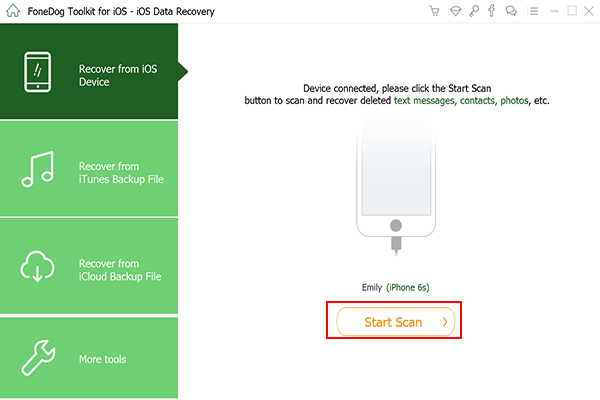 Step 2. The software will begin scanning your device for lost or deleted data and files and will likely take a couple of minutes to finish. You can stop the process if you already see the data that you are looking for appear on left side of the software's interface. Once the scanning is done, you just need to select the data and files you want to recover to your iPhone and click the Recover button.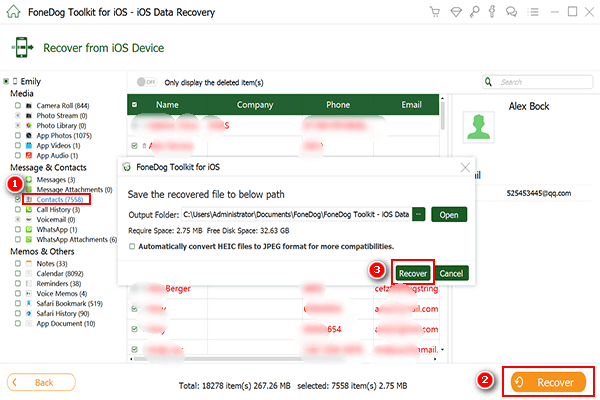 This software can also recover lost or deleted files from your iTunes backup file and iCloud backup file. In this way, you can also recover data that you might have accidentally deleted in your backup files.
Part 3. Conclusion
It can be a bit frustrating to suddenly see part or all of your contacts missing in your iPhone device, especially after updating it to a newer version of iOS. But this problem is not unusual, as a lot of people experienced it already.
Fortunately, there are ways for you to fix this problem. You can start off with simple solutions that involve making simple adjustments or changes to the settings of your iPhone device and see if it works or not.
An example of a solution you can try is toggling On and Off the Contacts in your iCloud to see if the contacts are just not visible. If none of the simple solutions work, you can choose to recover your contacts through the backup file you have of your iPhone, either in iTunes or iCloud.
Keep in mind, though, that both iTunes and iCloud won't allow you to view the individual data in your backup files so there's no way of knowing if it contains your contacts or not. Restoring your backup will also mean you are deleting your current files and data, which could be a problem if your backup is not recent.
The best way to actually deal with this problem is with the help of a third party provider like FoneDog. Their iOS Data Recovery software is a great way to recover lost or deleted files from your iPhone, as it has the ability to trace and recover them from your own device.
You just need to run the software on your device, while it is connected to the computer, and it will already find within the device all of your lost and deleted data.