European VR/AR Experts Will Present At Moscow-Based Russian Gaming Week
On June 7-8, the Moscow-based exhibition center Sokolniki will host the annual Russia's largest exhibition and forum
Russian Gaming Week 2017
. The event focuses on the promotion of gambling and entertainment industry and includes a conference, an exhibition and a number of business meetings.
The main topic of RGW 2017 will be gaming innovations, including in the fields of augmented and virtual reality.
As reported by organizer, Smile-Expo event company, there will be many foreign participants this year. Thus, the first conference day will be opened by successful entrepreneurs and executive managers of European companies – founder of ViARsys, Konrad Gill (Austria), and Kevin Williams (the UK).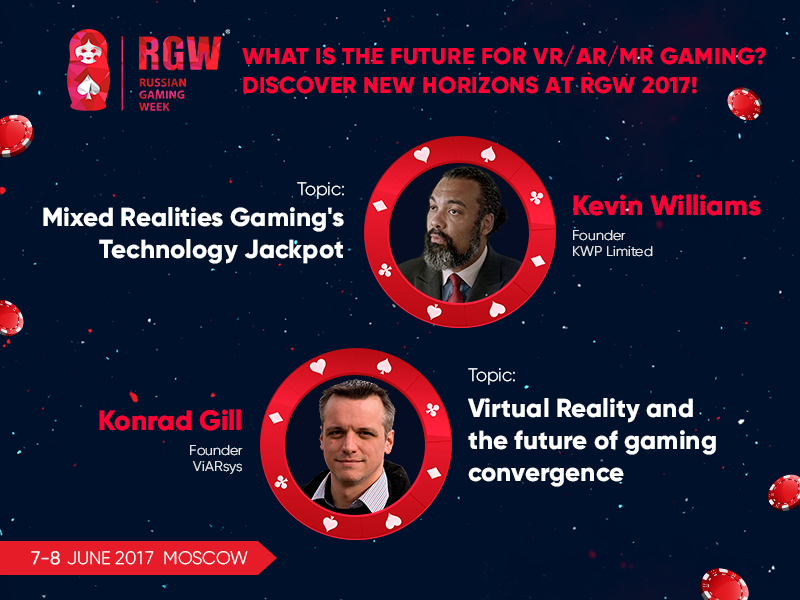 Konrad Gill is one of the pioneers in the development and promotion of VR technologies. Holding top management positions in the gaming industry, he implemented a range of innovative ideas based on the convergence between land-based and online sectors.
Konrad calls himself a master of his craft, a gamer, and a technological freak. The European industry-based community knows him thanks to international gaming and iGaming conferences among other things, and now the Russian audience will get a chance to get acquainted with him. For guests of Russian Gaming Week, Konrad will talk about the prospects of VR technologies in gaming convergence.
The topic of implementing AR/VR in business will be further elaborated by Kevin Williams, founder of the British company KWP Limited. His team specializes in market analysis and building marketing strategies in the gaming segment. At Russian Gaming Week, Kevin Williams will focus on the methods of successful implementation of innovation technologies in business and the increase in demand for AR/VR products.
More information about the forum's program can be found on the website of
Russian Gaming Week
. Registration for the event is already open.