How to Correct Invoices on iPhone Easily and Quickly
Whether you are an entrepreneur, an executive or a freelancer, probably you use invoices quite often, as a principle means for handling everyday finance transactions. Invoices are the proof of goods or services provided together with their cost, for payment at the certain time. It is a kind of a common finance contract between clients and employers and as it is, it should be written accurately and without any errors. However, we are all humans and sometimes we make mistakes, we miscalculate something or slip up some items. So, what to do in these situations? To make a new invoice or is there an easier way to correct it?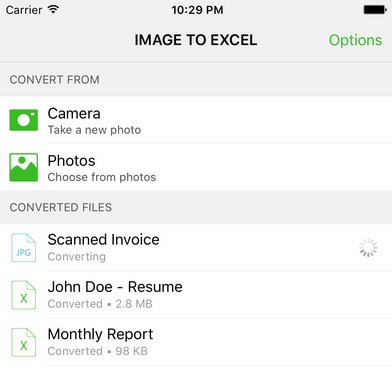 Of course, there is. With a help of modern technology, this time iPhone and the right app, most things can be fixed without a hitch. The app in question would be Image to Excel Converter that allows you to take a picture of your paper or on-screen invoice and convert it into editable MS Excel spreadsheet and later on to make needed modifications. Forget about time-consuming generating of a new invoice. Now whenever and wherever you are, it's possible to make necessary corrections and get your job done without a delay.
Furthermore, Image to Excel Converter has many other significant features to offer, such as:
Excellent conversion quality and recognition thanks to the latest OCR technology
Convert limitless number of files of any size
Completely free of charge conversion services
Intuitive interface convenient for all types of users
Easily shared converted documents
image to excel icon.png
And now let's get down to business and learn how to adjust wrong invoices in no time:
First download Image to Excel Converter
After opening the app, snap a photo of a hard copy invoice or a screenshot of a digital one
Open the converted file in an Excel editor app and make it right
image to excel.jpeg
"Piece of cake!" Now there's no need to worry whenever you miswrite an invoice and squander your precious time on writing a new one anymore. There's a quick remedy, in a shape of a beneficial app, that will make the pain and mistakes go away!