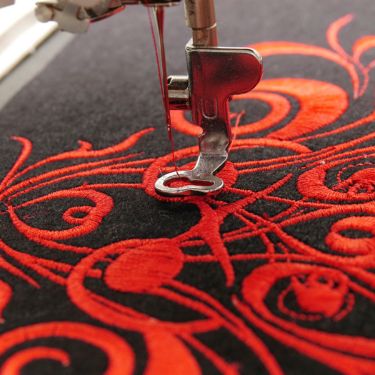 Embroidery has been a beloved art form for centuries worldwide, cross-culturally and across religions. From folk embroidery to haute couture, intricate needle and threadwork have showcased unique designs, colors, and textures. Embroidery has also been a popular hobby and pastime among those who love to create and stitch.
If you're considering embroidery as a new hobby, one of the most important choices you'll face is deciding between the two primary embroidery techniques: machine and hand embroidery. To help you choose which style is right for you, we take a look at the differences between machine and hand embroidery.
The Process
Machine embroidery has made the process of designing and stitching fabrics much easier, quicker, and more precise. For this technique, you use specialized software to digitize a design into embroidery files, which then feed into an embroidery machine. The machine automatically stitches the design into the fabric.
On the other hand, hand embroidery is a more traditional technique where you use a needle and thread to make a design directly on the fabric. While the hand embroidery process takes more time and effort than the machine, it provides a more personal touch, and you have the option to customize the project as you progress.
Learning Curve
Learning either technique can be a daunting task, especially for beginners. However, both hand and machine embroidery have their own pros and cons when it comes to a learning curve. The basic hand embroidery techniques are simple to learn, such as basic stitches and using the right needle threading. While these simpler techniques can be easy to pick up, there are many more stitching styles to learn and choose from if you want to create more intricate pieces.
In machine embroidery, however, you must learn about design software, stitch settings, and designs that are compatible with the machine. However, you don't have to spend extra time learning how to sew, stitch, thread needles, and so forth.
Overall Cost
The cost of machine and hand embroidery can vary depending on the materials and supplies used. Hand embroidery requires very few supplies, and the cost can be quite low. All you need are embroidery needles, thread, and fabric—and your own two hands, of course.
Machine embroidery requires an investment in the machine itself, and you'll need to purchase materials like thread, stabilizer, fabric, and other sewing equipment to use with your machine. However, embroidery machines make it relatively simple for beginners to pick up the craft. With them, you can start embellishing fabrics in no time!
Creative Control
One of the most significant differences between machine and hand embroidery is the level of creative control you have over your projects. With machine embroidery, you'll have access to hundreds of pre-programmed designs and patterns to choose from. You can customize any fabric with a snap of your fingers!
However, you don't have as much control over the final outcome of the project. Hand embroidery, on the other hand, gives you complete creative control over every stitch. You can make intricate designs and use a wide range of stitches to customize your project exactly how you want it.
In the end, your choice between machine and hand embroidery will depend on your personal preferences, skill level, and the time and resources you're willing to invest in the craft. Both techniques have pros and cons, but the most important thing is to choose the option that feels right for you. Whether you opt for the speed and convenience of machine embroidery or the personal touch of hand embroidery, you'll be able to create beautiful works of art you can be proud of.