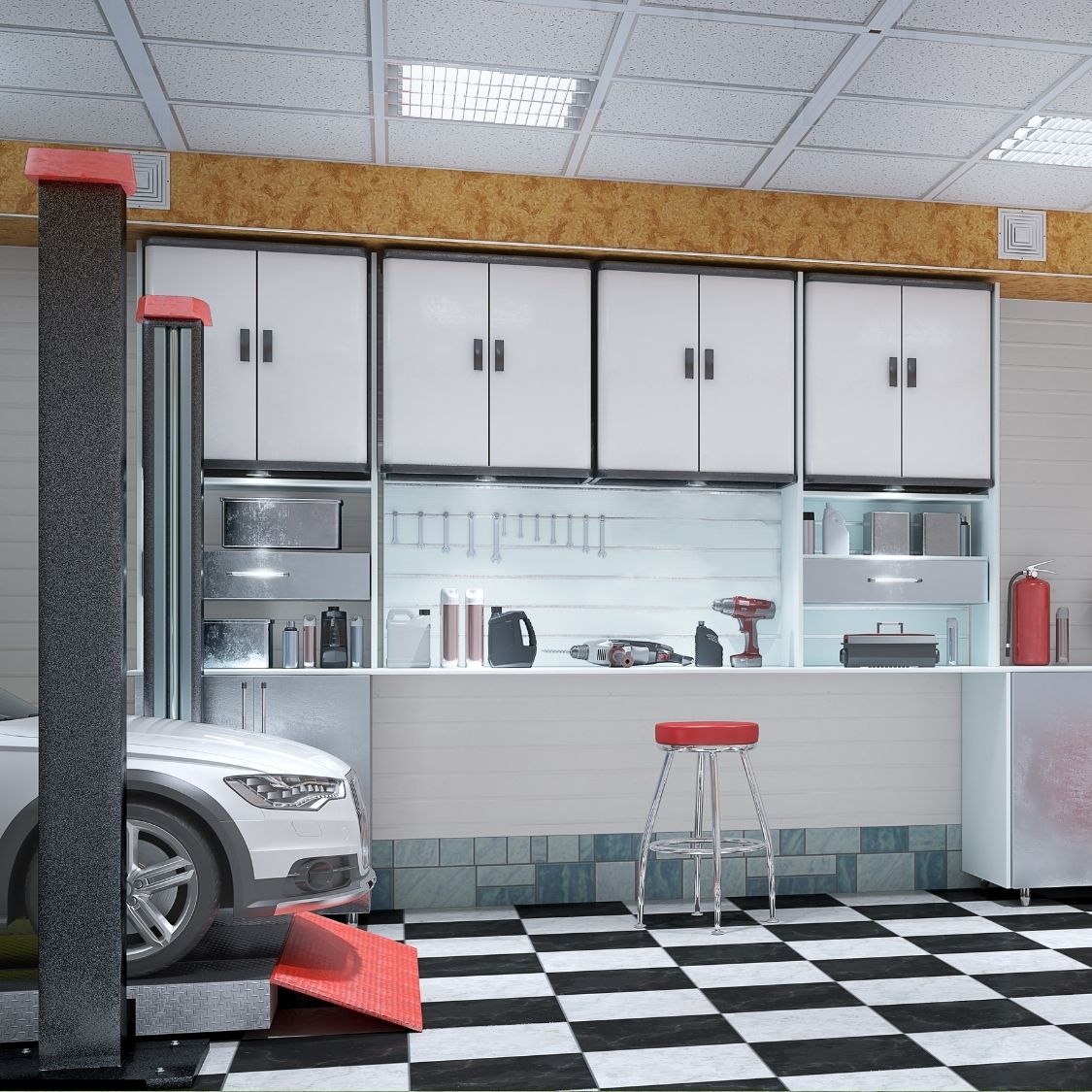 When it comes to storage, you probably tend to think of your garage as a room to leave your car and a catch-all for lawn and garden and home repair tools and supplies. If that's what you really think, then you're not giving your garage credit! With a few adjustments and additions, you can use your garage space to store multiple items that can't or won't fit inside. Here's how to take advantage of storage space in your garage. Note: always keep in mind what can and can't be stored in the garage. If humidity, heat and cold, or pests could damage it, keep it indoors. Otherwise, it's all fair game!
Shelving and Drawers
The first thing to do in your garage, if you haven't already, is add some shelves. The floor is just one level of storage space, and you should keep it clear anyway. Adding a sturdy set of metal garage shelves can add three, four, or even more levels for storing the tools already out there while leaving room for items from inside the house. Set up several rows of shelves across the back of the garage and on either side, creating several continuous levels for storage. Add some drawers if you can to keep certain things locked up and out of sight.
Invest in a Parking Lift
A garage is your car's home, protecting it from the elements while keeping it safe and secure. But that doesn't mean it should take up so much floor space. When you purchase a parking lift, you can raise your car above the garage floor, giving you more room to maneuver and even leaving enough space for another car. And as long as you have 12½ feet of ceiling clearance, you can add a hydraulic or electric parking lift that allows you to come and go as you please.
Things Are Looking Up
Your ceiling space offers plenty of room for storage, but make sure it can take the extra weight. Adding a loft is a fantastic solution, but you should talk to a carpenter before nailing planks of plywood to the crossbeams. Thinner planks were never intended to take more weight than that of the garage walls. A carpenter should be able to devise a support system that allows the construction of a loft. Otherwise, there are all sorts of supports, hooks, and shelving available at your local hardware store that you can attach to the studs above the ceiling, providing extra space.
Pegboards and Other Wall Hangings
Here's one more way you can take advantage of storage space in your garage. Add some pegboard and hooks to the walls so you can hang up tools, cleaning supplies, extra shelving, clips, and more. Adding a long magnetic strip and attaching magnets to items is another way to keep them off the floor and out of drawers, leaving more space for other items from inside. Screwing in brackets to hold brooms, mops, and other long-handled tools is also a clever idea.